'Downsizing' Teaser: Alexander Payne Invites You To Leisure Land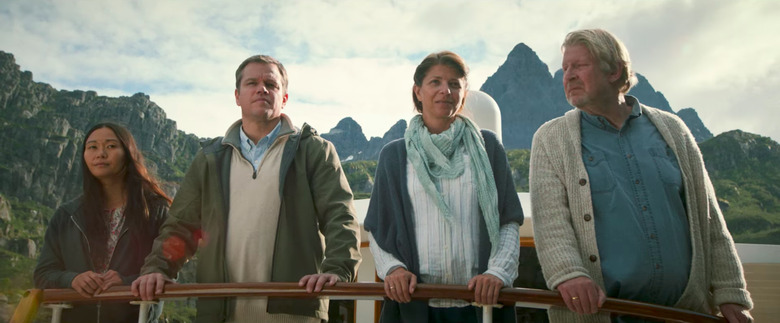 Life looks different at five inches tall.
As the quirky comedy starring Matt Damon gears up for a wide release after its successful festival circuit, Paramount has released another look at life on the small side for the characters in Alexander Payne's Downsizing.
Downsizing Teaser
Paramount touts this clip as "an exclusive look," but it's more like another miniature (heh) trailer with some new footage of Matt Damon and Kristen Wiig's new home, Leisure Land, after they have undergone the "permanent, irreversible" procedure that shrinks them to the side of a box of crackers. Fittingly, crackers are the first thing that Damon's character Paul tries after his surgery, awed by the large size of the snack.
Paul and his wife Audrey (Wiig) learn that their $100,000 in the real world translates to $12 million in Leisure Land, allowing them to live in life of luxury in their new, smaller town — but one that houses three Cheesecake Factories! Something's amiss though, as the on-the-nose trailer song of Talking Head's "Once in a Lifetime" plays in the background. But darned if this new teaser will tell you what that is.
Downsizing, directed by Sideways and The Descendents director Alexander Payne, premiered at the Venice Film Festival earlier this summer to fairly positive buzz, with many calling it a "witty" high-concept comedy held up by a stellar cast. /Film's Marshall Shaffer's review of Downsizing from the Toronto International Film Festival called it an exercise in sincerity, saying:
"Downsizing dares to ask if humans will be ready to make the sacrifices necessary for the survival and preservation of the species is on the line. Payne and Taylor can pose the question without inducing complete debilitation because it's one they ask with genuine concern and empathy for their fellow earthlings."
Here's the official synopsis for Downsizing, which also stars Christoph Waltz, Jason Sudeikis, Neil Patrick Harris, Hong Chau, Laura Dern, and Nancy Niesh:
When scientists discover how to shrink humans to five inches tall as a solution to overpopulation, Paul (Matt Damon) and his wife Audrey (Kristen Wiig) decide to abandon their stressed lives in order to get small and move to a new downsized community — a choice that triggers life-changing adventures

.
Downsizing is set to hit theaters on December 22, 2017.