'The Mummy' Gets A 16-Bit Video Game Tie-In And It Looks Better Than The Movie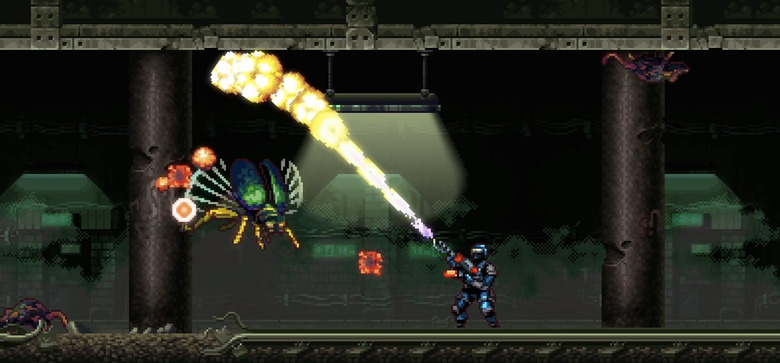 There was a time when video game tie-ins for major blockbusters were a foregone conclusion. Sadly, after too many video game companies and movie studios phoned in poor video game adaptations of movies, they've gone by the wayside and are mostly a thing of the past. But now a new video game tie-in has come along that just might be better than the movie that inspired it.
One of the year's worst movies and most disappointing blockbusters is undoubtedly The Mummy. It was a wretched start to the new Dark Universe that Universal Pictures hoped would be the launching pad for a series of films that would remake classic monster movies like The Wolfman, The Creature from the Black Lagoon, The Invisible Man and more. Therefore, we're surprised to see that a 16-bit video game tied to the movie called The Mummy: Demastered looks like it will be fun as hell.
Check out the trailer for The Mummy video game below.
Here's the official description for the video game from WayForward.com:
A powerful ancient evil has arisen, and the war to save humanity has begun! The Mummy Demastered throws you into a 16-bit-inspired battle against the undead in a 2D, nonlinear, action-packed adventure. As an elite agent in the monster-hunting Prodigium organization, you must use a variety of weapons, upgrades, and mysterious artifacts to defend mankind against the supernatural hordes of Princess Ahmanet. Your Prodigium unit is already on the scene, but HQ lost contact with them hours ago. Only by exploring tombs, forests, abandoned tunnels, and the cursed streets of London will you discover the fate of your allies. But beware – Ahmanet commands legions of undead, insects, plague-ridden vermin, and worse! If you're not careful, you'll be the next soul in her army.
The gameplay has the classic arcade-style feel to it, looking like an updated version of Contra, complete with a retro soundtrack and a whole arsenal of weapons, such as a flamethrower and grenades. It has the best traits of video games from decades ago, and it almost makes up for the fact that The Mummy was so awful.
Unfortunately, as of now there's no official release date for the game, so you'll have to stay tuned to WayForward.com to find out when you'll be able to play this game yourself.