'Hocus Pocus 2' Might Really Be Happening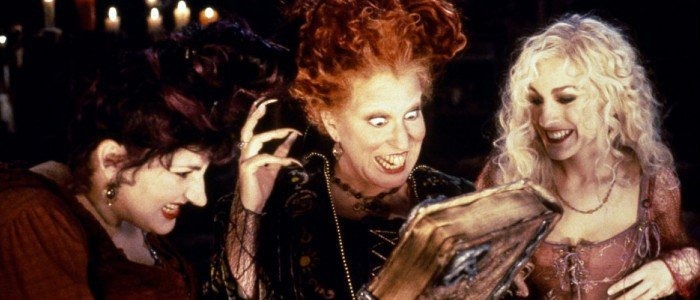 Hocus Pocus, the live-action Disney film that people ignored in theaters but later embraced on home video has become a Halloween staple for many, inspiring a cult fandom that won't stop talking about the film once the end of September rolls around. Rumors of a sequel to the film have been bubbling over for some time, and now it seems original Hocus Pocus writer Mick Garris has confirmed the sequel is the real deal. Read more about Hocus Pocus 2 below.
Released in 1993, Hocus Pocus focused on the Sanderson Sisters (Bette Midler, Kathy Najimy and Sarah Jessica Parker), three witches who kill children. It's fun for the whole family! The film garnered mixed reviews (it's currently at 30% on Rotten Tomatoes) and less-than-ideal box office returns, but the miracle of home video and TV airings helped give the stylish, Halloween-set comedy a new life.
The fans who have embraced the film have been clamoring for a sequel for decades now, but the prospects have looked rather bleak. "After all these years and all the fan demand, I do believe I can stand and firmly say an unequivocal no," star Bette Midler said in 2015. Sarah Jessica Parker added in 2016, "I would love [to do a sequel]. I think we've all been fairly vocal about being very keen but that hasn't created any groundswell of movement."
Yet fret not, Pocus Heads (I think that's what the fans call themselves; if not, they should start immediately) – your dreams of Hocus Pocus 2 might soon be a reality. Speaking with Forbes, original Hocus Pocus screenwriter Mick Garris seems to have let the black cat out of the bag and confirmed that there will probably indeed be a sequel:
It's amazing to be a part of something that has become a perennial. It [wasn't] a hugely successful movie when it came out, it was only modestly successful. I wrote the first eight years earlier but it was when it turned out that Bette Midler was interested and wanted to do it, she was at a very high time in her career, that it got put on the fast track and it started happening again. Now it has become an annual thing at the El Capitan on Hollywood Boulevard and the show is sold out. I went there last year and one of the ushers actually recognized me and gave me a tour of the theater. Generation after generation, it's kind of remarkable and fantastic to have something brought to the screen like that and to have it embraced generation after generation. Everybody I meet, it's either their daughters or their own favorite movie and it's incredibly exciting. There have been rumors of a Hocus Pocus sequel for the last 10 years that will not die. I have heard they are developing the script, I haven't been involved in it but I think there will be a sequel it might be for Disney Channel or Freeform or ABC. I think it will be for television but I hear that it is moving ahead.
When asked if the original cast would be returning, Garris added: "I think they are, yeah, I think they are. If they don't do that I think it would be a big mistake because all three of them are still so incredibly potent and powerful and great performers and who else can recreate those characters?"
As for the original Hocus Pocus, I'm sure you can find it rerunning constantly on some channel the closer we get to Halloween.