'Han Solo': Ron Howard Reveals Reference To Concept Artist Ralph McQuarrie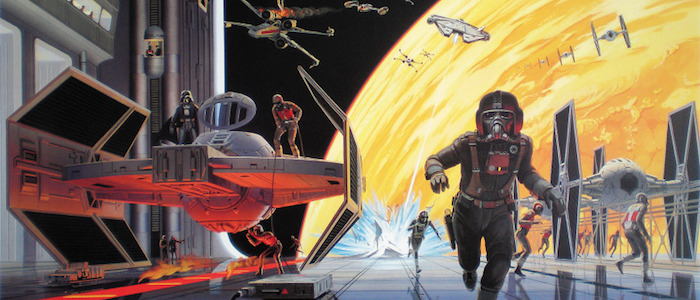 By now, Star Wars fans should be well aware of the impact that concept artist Ralph McQuarrie had on the franchise. George Lucas once described McQuarrie's contribution to Star Wars as "incalculable" because of how integral the artist's early sketches were to translating Lucas's script into a visual guide for the talented craftspeople to be able to bring the story to life.
Some of McQuarrie's unused designs and early ideas have been incorporated into various pieces of Star Wars mythos over the years, from J.J. Abrams bringing his art to the big screen in The Force Awakens to McQuarrie's Darth Vader design finding its way into Star Wars Rebels. Now we know Han Solo director Ron Howard will keep that trend alive: the filmmaker has shared a photo involving a Han Solo Ralph McQuarrie easter egg that only the most eagle-eyed fans would have been able to spot. Check it out below.
Say what you will about Lucasfilm hiring Howard to take over the director's chair on this film, but one thing is undeniable: he's far more open about sharing images from his set than Phil Lord and Chris Miller were when they were running the show. (Not that Howard's generosity automatically means he'll make a better movie – Lord and Miller's version will always be something fans wonder about.) Howard has been letting photos fly from the movie's set, and his latest featured a nice shout-out to McQuarrie's work.
Han Solo Ralph McQuarrie easter egg
Can anybody translate for me? #McQuarrie #UntitledHanSoloMovie pic.twitter.com/mbKltvhFbW

— Ron Howard (@RealRonHoward) September 26, 2017
Those alien runes could be anywhere on the set, but only the most diehard Star Wars fan would be able to trace those markings back to a specific piece of McQuarrie's work. Luckily, this is Star Wars we're talking about: of course there's a diehard fan out there who knows this stuff inside and out.
StarWarsUnderground points us to this response from an artist named Paul Bateman, who worked with McQuarrie and knows his work extremely well, who seems to have solved the riddle:
@RealRonHoward this is as near as I can get you Ron, Ralph winged it as far as I know, but it was a font he came up with for Yavin 4. pic.twitter.com/qmOulMr38B

— Paul Bateman (@PaulRMQ) September 26, 2017
Does that mean that Han (or one of the other characters) will actually be taking a trip to Yavin 4, or is this a coincidence? Hmm...
For more on McQuarrie's influence on the Star Wars universe, be sure to check out this five-part documentary video tribute that Lucasfilm produced for Star Wars Celebration back in 2012. The stunningly talented artist also contributed to Close Encounters of the Third Kind, Cocoon (he won an Oscar for his work on that movie), E.T. The Extra-Terrestrial, Raiders of the Lost Ark, and more, and he passed away at the age of 82 in the summer of 2012.