'Gotti' Trailer: John Travolta Plays The Gambino Family Crime Boss In This Long-Gestating Gangster Film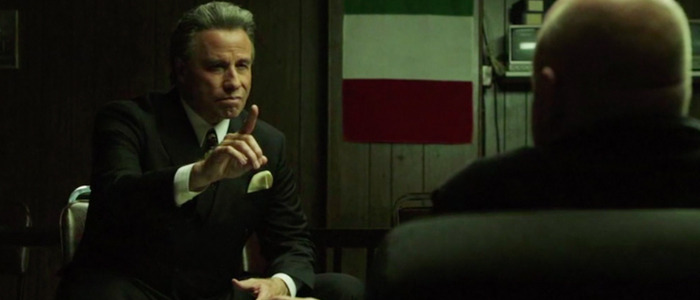 John Travolta (Pulp Fiction, American Crime Story: The People vs. O.J. Simpson) has been wanting to star in a movie about 1980s New York City crime boss John "The Teflon Don" Gotti since 2011, and after going through multiple iterations and spending years in development hell, the film is finally ready. Here, at long last, is the first trailer for Gotti, which ended up being directed by Kevin Connolly: yep, the guy who played "E" on HBO's Entourage. And weirdly, this movie seems like a fake film you'd see in the background of an Entourage episode.
Gotti trailer
For a movie that once had Nick Cassavetes (John Q, Alpha Dog) and Barry Levinson (Sleepers, Good Morning Vietnam) lined up to direct and people like Ben Foster, James Franco, Joe Pesci, and Lindsay Lohan attached, this sure seems like it's experienced a long fall on its way to the big screen. Finally landing at Lionsgate Premiere – Lionsgate's specialty film division responsible for releasing lower-budget films theatrically and through video on demand platforms – doesn't exactly bode well for this one, either.
And that's not even taking into account what we see in the trailer itself, which plays like a greatest hits of every modern gangster story ever made. The real-life Gotti – a larger-than-life personality who earned minor celebrity status due to his flashy clothes and outspoken appearances on TV – may have influenced some of those films, but when a director decides to tell a story like this, they have to take those later works into account. It's the John Carter syndrome: that original story inspired many other sci-fi movies, but because its film adaptation didn't come out until years after those had already established many of the genre's tropes, it was seen by some as a sad rip-off. To avoid that, it helps if a director brings something new to the table and not just put money in the jukebox to play the hits once again.
The trailer seems to give away every single facet of the film's story, culminating with a shot of Travolta in some questionable old-age makeup that doesn't do a lot to inspire confidence. Anyone out there have hope for this one?
GOTTI follows infamous crime boss John Gotti's (John Travolta) rise to become the "Teflon Don" of the Gambino Crime Family in New York City. Spanning three decades and recounted by his son John Jr. (Spencer Lofranco), GOTTI examines Gotti's tumultuous life as he and his wife (Kelly Preston) attempt to hold the family together amongst tragedy and multiple prison sentences. GOTTI is a crime drama directed by Kevin Connolly and written by Leo Rossi and Lem Dobbs.
Kelly Preston, Stacy Keach, Pruitt Taylor Vince, and Spencer Lofranco co-star, and Gotti arrives in theaters and VOD on December 15, 2017.