'Die In A Gunfight': Josh Hutcherson And Kaya Scodelario To Star In Modern 'Romeo & Juliet' Riff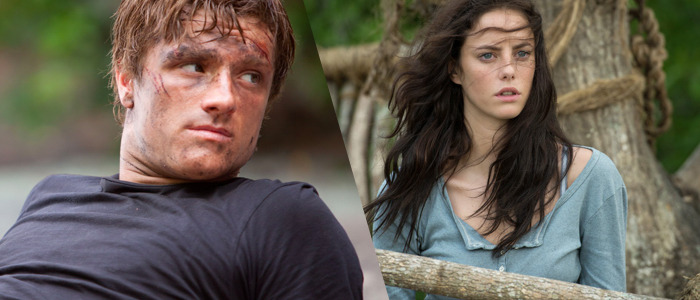 "Wherefore art thou, bae?"
I wouldn't be surprised to hear those words uttered in the upcoming movie Die in a Gunfight, a riff on William Shakespeare's classic tragedy Romeo & Juliet set in modern day that's just cast a couple of stars from the biggest YA movie franchises around. Josh Hutcherson (The Hunger Games) and Kaya Scodelario (The Maze Runner) will play the young star-crossed lovers in this updated take that also has Helen Hunt (Twister) and Olivia Munn (X-Men: Apocalypse) on board in supporting roles. Get the latest details about Die in a Gunfight below.
The Hollywood Reporter has the casting news, providing the newest update on a project that's been kicking around Hollywood for nearly a decade. Writers Andrew Barrer and Gabriel Ferrari sold the script immediately after graduating from NYU, and they later went on to co-write Ant-Man and Ant-Man and the Wasp. (They were also part of the Transformers writers' room and wrote a Sabrina the Teenage Witch film that never saw the light of day.) Their script for Die in a Gunfight made the Black List back in 2010, and the next year Zac Efron was attached to star in a movie version, but that ultimately fizzled. Now, six years later, the film has new life.
Here's the synopsis (via Deadline):
The film follows two star-crossed lovers – Ben (Hutcherson) and Mary (Scodelario), who share an eagerness to break from the confines of their lives that fuels their passion for each other and leads to an all-out struggle for their love against a backdrop of corporate espionage, revenge, and a long-standing feud between their families.
Collin Schiffli, who directed a film called Animals that won an award at the South By Southwest Film Festival, is the latest person attached to direct. Hutcherson, who played Peeta Mellark in the Hunger Games movies, will appear in The Disaster Artist and Tragedy Girls later this year. Scodelario, who played a science-loving adventurer in this year's Pirates of the Caribbean: Dead Men Tell No Tales, recently wrapped production on The Maze Runner: The Death Cure, the final film in that franchise which comes out next year.
Corporate espionage sounds like this movie's way to differentiate itself from all of the other Romeo & Juliet adaptations, of which there have been many over the years: West Side Story, Tromeo & Juliet, Baz Luhrmann's Romeo + Juliet, 2013's more traditional adaptation starring Hailee Steinfeld and Douglas Booth, and tons more.
Die in a Gunfight begins filming next month in Boston.