'Freaks And Geeks' Documentary Is Coming To A&E TV In 2018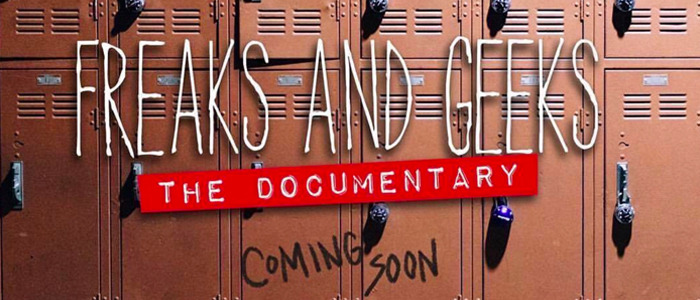 In the always-evolving world of the internet, two things still seem like unshakable certainties. One is the classic Rule 34, which says, "If it exists, there is porn of it." And the second is that if you ever come across a list of TV shows that were cancelled too soon, Paul Feig and Judd Apatow's short-lived 1999 comedy series Freaks and Geeks will appear on that list. Guaranteed.
There's been all sorts of talk about a reunion or revival series in the intervening years, but now some of the people involved in the original show have confirmed that a new Freaks and Geeks documentary is coming to television next year. Get the details below.
The doc came to our attention through a tweet from series creator Paul Feig, who confirmed its existence when a fan asked if it was real:
Yes it is. https://t.co/lpKHcQNsmo

— Paul Feig (@paulfeig) September 25, 2017
Samm Levine, one of the show's stars, was a bit more forthcoming with information, revealing some of the filmmakers involved:
This happened and is coming your way in 2018 thanks to @hodgeepodgee, @MorganSpurlock and @AETV. Clear your calendars! pic.twitter.com/huhDIG2coV

— Samm Levine (@SammLevine) September 18, 2017
Brent Hodge is the director of docs like I Am Chris Farley, A Brony Tale, and The Pistol Shrimps, and Morgan Spurlock should need no introduction: he's the documentarian who came to prominence with Super Size Me back in 2004, and just launched its sequel at this year's Toronto International Film Festival.
And speaking of Toronto, James Franco – who also starred in Freaks and Geeks – announced this new doc while he was at TIFF:
Announced at TIFF! #freaksandgeeksdoc coming in 2018 @aetv #cultureshock #tiff2017 thanks for having us @thompowers1 @dorotamischka
The series launched the careers of many of today's biggest comedy stars. Seriously, get a load of this cast: Franco, Levine (Inglourious Basterds), Linda Cardellini (Mad Men), John Francis Daley (co-writer of Spider-Man: Homecoming), Martin Starr (Silicon Valley), Busy Phillips (Vice Principals), Jason Segel (How I Met Your Mother), and Seth Rogen (This is the End). Even the recurring players and guest stars are practically a who's who of recognizable Hollywood names: Ben Foster, Lizzy Caplan, Shia LaBeouf, Tom Wilson (Biff from Back to the Future), Ann Dowd, Rashida Jones, Kevin Corrigan, David Krumholtz, Jason Schwartzman, and Ben Stiller. We're not sure which of them will pop up in the doc, but I'm looking forward to seeing who decided to take the time to talk about the show that gave many of these people their start in the industry.
Freaks and Geeks is indeed a wonderful show, sweet and funny and honest in the way it captures the high school experience across all types of different cliques and subcultures. It's set in the 1980s, but the show's plots and situations are universal and relatable, and though its ending is bittersweet, I think it's one of those shows that is actually better because of its one-season status. It had a tone that may have been difficult to sustain for more than its 18 episodes, and now it lives on Netflix and home video as a jewel for people to discover. I just rewatched the whole series for the second a few months ago, and it's just as resonant as ever. I can't wait to see what Hodge has in store for us with this documentary when it arrives on A&E next year.