'Pitch Perfect 3' Trailer: The Bellas Go International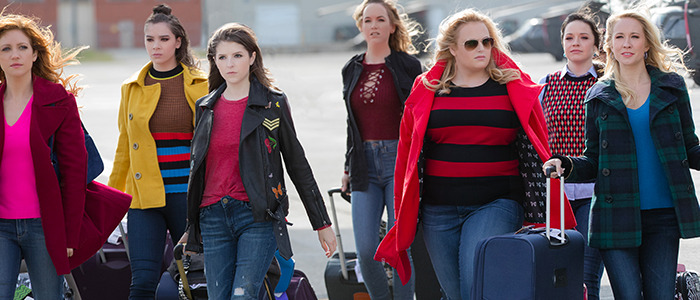 The marketing for Pitch Perfect 3 is referring to this as "last call," so there's a chance that this truly is the final time audiences will be able to hang out with Anna Kendrick, Rebel Wilson, Hailee Steinfeld, Brittany Snow, Anna Camp, and the rest of the Bellas. And while this new trailer for the sequel promises a film that's just as enjoyable as the first two, it might actually be a good idea for this franchise to go out on top after the curtain falls here, because it seems like it's reached its natural conclusion.
Pitch Perfect 3 trailer
I suppose introducing Hailee Steinfeld in the previous movie gives Universal the opportunity to keep this alive with more films centered around her character if this one makes enough money at the box office, but it certainly seems as if Beca and the now-graduated Bellas' storyline is coming to a close. How many more ways can they find to reunite and perform again after this?
I found Pitch Perfect 2 to be an improvement over the first because the sequel eschewed a traditional love story in favor of keeping the attention on the Bellas themselves, which is always a good idea when you have such a strong ensemble. Pitch Perfect 3 runs the risk of separating the girls yet again with Beca getting a record deal offer, but there are plenty of jokes to keep things moving along...and were those explosions near the end? Man, they're really ramping things up this time around.
Also new to the franchise: Ruby Rose (xXx: The Return of Xander Cage, John Wick: Chapter 2) as one of the Bellas' new singing rivals, and John Lithgow, who doesn't make an appearance in this trailer but who I must assume plays the badass new singer who comes in and blows everyone away with his stellar pipes in the climactic music number at the end. (If that were to actually happen, this movie would be guaranteed a slot on my favorites of the year list.)
Now graduated from college and out in the real world where it takes more than a cappella to get by, the Bellas return in Pitch Perfect 3, the next chapter in the beloved series that has taken in more than $400 million at the global box office.
After the highs of winning the World Championships, the Bellas find themselves split apart and discovering there aren't job prospects for making music with your mouth. But when they get the chance to reunite for an overseas USO tour, this group of awesome nerds will come together to make some music, and some questionable decisions, one last time.
Pitch Perfect 3 hits theaters on December 22, 2017.