'Cook Off!' Trailer: Melissa McCarthy's Shelved Comedy Finally Makes It To The Table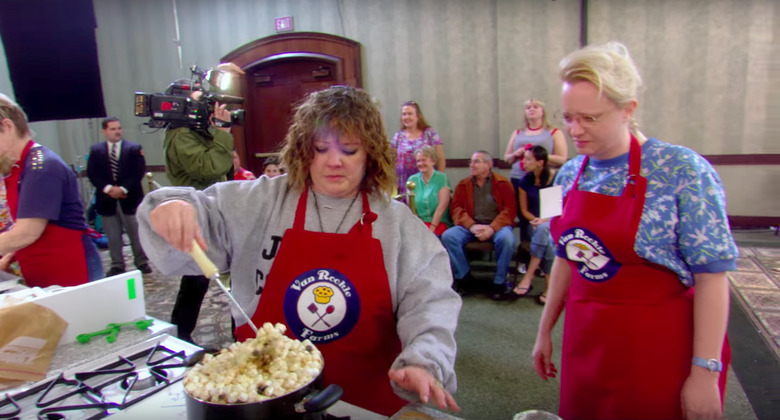 It's the heyday of TV series like Chopped and The Great British Bake Off, so it seems like there's no better time for a mockumentary film about the lives of quirky small-town cooking competitors.
Ironically, Melissa McCarthy's comedy Cook Off! is a movie that has been long in the development oven, originally made a decade ago before being shelved in 2007. Now Lionsgate has picked up the film and re-edited it for 2017 consumption. Hopefully the jokes haven't expired by now.
McCarthy stars as one of the many hapless contestants of the Van Rookle Farms Cooking Contest, a small-town cooking competition for rookies and amateurs alike. It looks like the competitors are mostly rookies though, as McCarthy struggles to make a meal out of chocolate chips and marshmallows, and one other contestant uses her tears as seasoning.
The film starred McCarthy in her pre-Bridesmaids days as well as Niecy Nash, Diedrich Bader, and McCarthy's husband Ben Falcone. Other than the aforementioned actors, there aren't that many huge stars that would date this movie to 2007, but a delay that instantly brings to mind the constantly pushed back Tulip Fever — a film with a production history that ended up being more fascinating than the film itself, even though that one was eventually (finally) released early this month. Hopefully Cook Off! will fare better with both critics and regular audiences, though its scathing portrayal of cooking contestants as nothing more than pageant queens probably won't play well with the Chopped crowd.
Here's the synopsis for Cook Off! below:
Reality-show shenanigans mix with the true-life fiery-and-fierce world of competitive baking in the deliciously sly mockumentary COOK-OFF! As a buffet of quirky contestants prepare for the renowned Van Rookle Farms Cooking Contest, the heat is on to win a one million-dollar prize. The filmmakers follow them as the foodie media and celebrity judges descend on a hotel convention area to see which contestants rise, which ones fall, who will reveal their true nature, and who will find love with the contest's costumed Muffin Man mascot. Costarring a cast of improv geniuses including Melissa McCarthy, Ben Falcone, Stephen Root, Diedrich Bader, Wendy McLendon-Covey, Gary Anthony Williams, and Sam Pancake, the zesty COOK-OFF! is an affectionate nod to ordinary Americans who believe they're one dollop of spray cheese away from achieving their dreams.
Cook Off is set to hit theaters on November 17, 2017.