Marvel's 'The Punisher' Release Date May Finally Be Revealed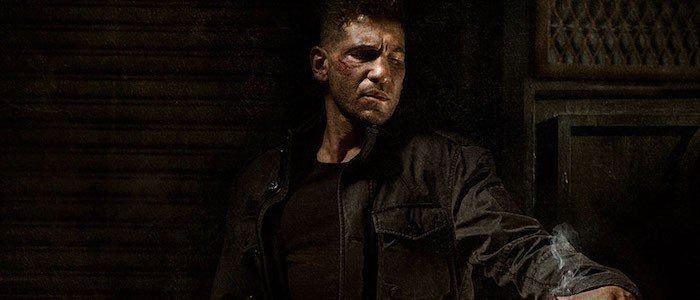 The trailers and ads for The Punisher have been chock full of violence, gore, and intrigue, but they're all missing one thing: the release date.
Marvel and Netflix have been frustratingly withholding of the newest street-hero series' premiere date, following Daredevil, Jessica Jones, Luke Cage, Iron Fist, and The Defenders. But it may be thanks to an innocuous write-up of the upcoming first season that we may finally know The Punisher release date.
The first full trailer for The Punisher piqued a lot of interest in the series from people who assumed it would just be a bloodier and more bone-crunching version of Daredevil (myself included). Jon Bernthal stole the show in Daredevil season 2, and promises to more than hold his own in his own spin-off series as the brooding, turmoiled vigilante Frank Castle. New characters were introduced, and Karen Page (Deborah Ann Woll) is back to presumably reprise her burning chemistry with Frank. But we just didn't know when to expect this series to hit the streaming service, with the dates annoyingly blacked out. Until now.
Thanks to the keen eyes of a Reddit user and Total Film subscriber, The Punisher release date was spotted in one of the magazine's article about the upcoming Marvel series: it's supposedly going to arrive on October 13, 2017.
Here's the image from the Reddit user, via Heroic Hollywood: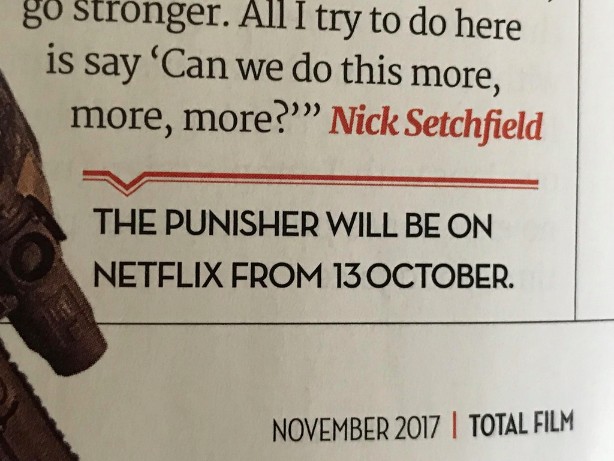 The Punisher was bound to be released before the end of this year, with trailers, stills, and even episode titles revealed. So it's no surprise that it's coming to our small screens soon — and fast.
It should be noted that there has been no official release date confirmed by Marvel or Netflix. Though with this reported date starting to hit the internet, we can probably expect an announcement soon.
Here is the synopsis for The Punisher:
After exacting revenge on those responsible for the death of his wife and children, Frank Castle (Jon Bernthal) uncovers a conspiracy that runs far deeper than New York's criminal underworld. Now known throughout the city as The Punisher, he must discover the truth about injustices that affect more than his family alone.
In addition to Bernthal in the title role and Woll as a returning character from Daredevil, The Punisher also stars Ben Barnes as Billy Russo, Jason R. Moore as Curtis Hoyle, Daniel Webber as Lewis Walcott, Paul Schulze as Rawlins, Jaime Ray Newman as Sarah Lieberman, and Michael Nathanson as Sam Stein.