'It' Pennywise Featurette Focuses On Bill Skarsgard's Unpredictable Performance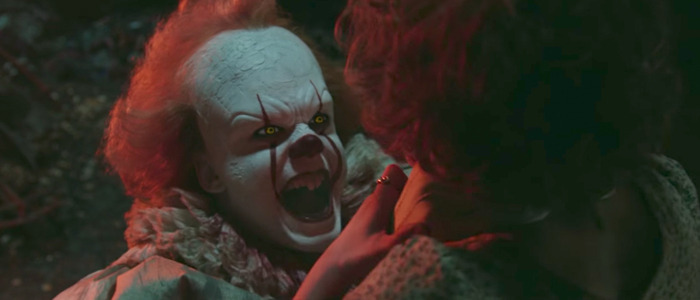 For one generation, Tim Curry's performance as Pennywise the Dancing Clown in the made-for-TV adaptation of Stephen King's It will always be the first thing that comes to mind when they think about the character. But I'd venture to say with the popularity of director Andy Muschietti's new film version of the classic horror novel, actor Bill Skarsgard's take on the shapeshifting entity is going to burrow its way into peoples' minds and give Curry a run for his money in the long-term.
As It continues to dominate at the box office during its third week, Warner Bros. has released a new Pennywise featurette devoted to Skarsgard's chilling performance. The video features interviews with the actor himself and the Losers' Club kids talking about the first time they saw him in character, and you can check it out below.
It Pennywise Featurette
When I first walked out of my screening of this movie, I found myself conflicted about Skarsgard's vocal choices for Pennywise. But the more time passes, the more I appreciate the weird approach he took; aside from the costume, makeup, and his physicality interpreting the character, the voice is his secret weapon and a way to ensure he sounds different enough from Curry's New England accent to make Pennywise his own.
For those of you who have been paying close attention to the making of this movie, you might be confused about the timing of when the kids first encountered Skarsgard in costume. The filmmakers have said that the first time they interacted with him was in the Neibolt Street house in the scene in which Pennywise attacks Eddie; in this video, Wyatt Oleff (who plays Stan Uris) says the first time they saw Skarsgard "all together" was during the projector scene. I guess either some of them filmed on the Neibolt set and saw him there first, or, more likely, all of the Losers' Club kids filmed the projector scene and saw what he'd look like for the first time in those images as the hair comes back and Pennywise is revealed on screen. (Meaning they physically interacted with Pennywise first in the Neibolt house.) Moving on...
That unpredictability to Skarsgard's performance that's mentioned in this video is something the actor was keen to bring to the role. When I spoke with him at the film's press junket, he explained:
If you have explosiveness and quick changes, it's something that's very unsettling. I wanted to incorporate that unpredictability, but have the character be almost like, you know when you're about to pop a balloon [between your hands]? It's this tension of explosiveness that's about to happen.
But my personal favorite part of Skarsgard's take on the creature known as It is the way he mocks his victims, which was an unscripted aspect he brought to the character. He told me:
...It's like, 'What defines evil? Real, real evil, and monstrosity?' And having a crying child and then mocking that crying child is, to me, one of the most horrific things you can do. So I'm like, 'Fucking great, let's do that!'
It is in theaters right now. Make sure you catch up with everything we know about It: Chapter Two so far.