Tom Hanks Taps Into His Inner Grumpy Old Guy In 'A Man Called Ove' Remake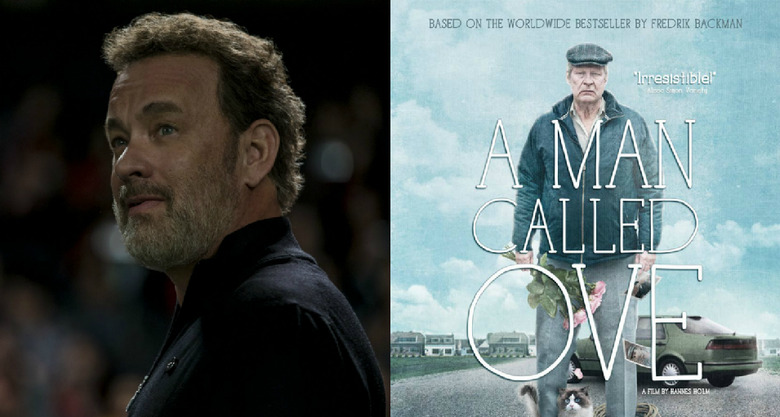 Cantankerous and Tom Hanks aren't two things you think would go together, but it looks like they will soon.
America's Dad is going to become America's Grumpy Next Door Neighbor in The Man Called Ove, an English-language remake of a 2015 Swedish comedy film that Hanks will produce and star in. The story is based on Fredrik Backman's best-selling novel of the same name. Hit the jump to learn more about The Man Called Ove remake.
Tom Hanks will star as the titular Ove in The Man Called Ove, a quirky comedy about an ill-tempered widower who spends his day berating his neighbor, visiting his wife's grave, and failing to commit suicide. However, his isolated existence is soon interrupted when a family moves in next door, flattening his mailbox and wiggling their way into his life. Think Up without the balloons.
Hanks is producing the movie with his Playtone banner partner Gary Goetzman, and his frequent producing partner and wife Rita Wilson is producing alongside the Swedish-language version's executive producer Fredrik Wikstrom Nicastro, according to The Hollywood Reporter. In a statement released with the movie's announcement, Nicastro said:
"I strongly believe that A Man Called Ove is a universal story that resonates strongly with an American and international audience. Making this film with one of the world's best and most acclaimed actors gives A Man Called Ove the best possible opportunity to once again touch the hearts of audiences worldwide."
The Swedish film adaptation directed by Hannes Holmes was released in 2016 and starred Rolf Lassgård as Ove. It was nominated for two Oscars earlier this year and was the highest-grossing foreign-language film in the U.S. in 2016. The trailer is as charming and darkly funny as you'd expect from the synopsis:
Ove (Rolf Lassgård) is the quintessential angry old man next door. An isolated retiree with strict principles and a short fuse, who spends his days enforcing block association rules that only he cares about, and visiting his wife's grave, Ove has given up on life. After a boisterous young family moves in next door and accidentally flattens Ove's mailbox, an unlikely friendship forms.
It saddens me a bit that we're at the point in Hanks' career in which the 61-year-old will be playing grumpy old men or wizened character roles. It's stranger to think about when Hanks is only six years older than Tom Cruise, who seems to be perpetually playing 30-year-olds. However Lassgård, who starred in the Swedish version, is only 62, and one of the 2016 film's Academy Award nominations was for Best MakeUp. Just think the wonders old age makeup can do on Hanks.