Can You Even Handle How Wacky This 'Peter Rabbit' Trailer Is?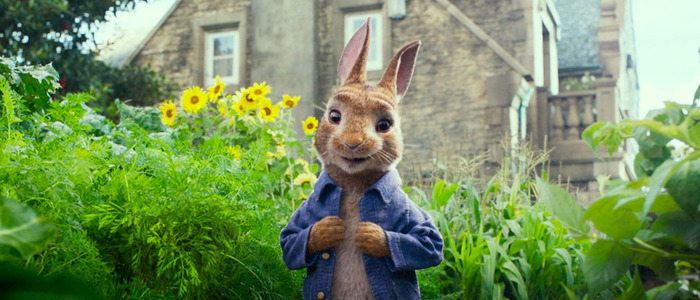 Oh boy, you're not ready for this one. No sir, no ma'am. Nothing on earth can prepare you for the pure outrageousness that is this new Peter Rabbit trailer. So you better steel yourself, because you're going to watch it anyway. You know you are, I know you are, so let's just stop dancing around this and get with it. Watch the Peter Rabbit trailer below. I'll wait.
Peter Rabbit trailer
Beatrix Potter's tale of an anthropomorphic hare who just loves to steal vegetables and then eat them has been enchanting children for 125 years now. Potter created the character in 1893 in a letter she wrote to the five-year-old-son of a former family acquaintance. The young boy was sick, and Potter wrote and illustrated the story with the hopes that it would cheer him up during his illness. From these charming beginnings spring wacky movies, which means the story is long-overdue for a comedic film adaptation with CGI animals voiced by familiar actors.
Enter Peter Rabbit, a new film from Annie remake director Will Gluck. Gluck's take updates the material to a contemporary setting, and has Peter (voiced by James Corden) inviting all his animal pals over to raid the home of Mr. McGregor (everyone's favorite mother! star Domhnall Gleeson). Things apparently get heated when both Peter and Mr. McGregor find themselves vying for the affection of next door neighbor Rose Byrne.
Yeah, that's right, this just got weird.
Who will Rose Byrne pick? Charming pale person Domhnall Gleeson, or a CGI rabbit voiced by James Corden? You'll have to wait until the film hits theaters early next year to find out. For now you can watch the trailer (thanks to Yahoo), which is admittedly kind of amusing. Although I have to say: based on the trailer alone, I'm instantly more sympathetic to Gleeson's character than Peter, which probably isn't exactly what they're going for here. The film also features Gleeson's fellow Star Wars co-star Daisy Ridley as well as Margot Robbie, Elizabeth Debicki, and Sam Neill.
Peter Rabbit opens February 9, 2018.
Peter Rabbit, the mischievous and adventurous hero who has captivated generations of readers, now takes on the starring role of his own irreverent, contemporary comedy with attitude. In the film, Peter's feud with Mr. McGregor (Domhnall Gleeson) escalates to greater heights than ever before as they rival for the affections of the warm-hearted animal lover who lives next door (Rose Byrne). James Corden voices the character of Peter with playful spirit and wild charm, with Margot Robbie, Elizabeth Debicki, and Daisy Ridley performing the voice roles of the triplets, Flopsy, Mopsy, and Cottontail.