The Long-Delayed 'Amityville: The Awakening' Is Finally Being Released...For Free?!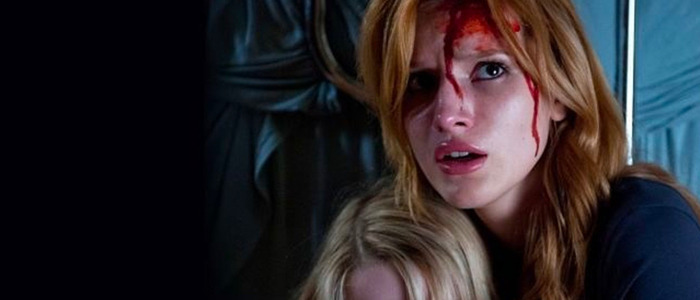 Few films have been pushed back over and over again as often as Amityville: The Awakening. Even the notoriously delayed Tulip Fever didn't suffer as unceremonious a fate as this Amityville Horror sequel. Now it seems the much-delayed fright flick will finally have its day, unless it gets bumped again. When will the Amityville The Awakening release date be? Find out below.
The Amityville: The Awakening story goes all the way back to 2014, when a new Amityville sequel was announced. The plan was to release the film in 2015, but obviously, that never happened. The movie, set to be distributed by horror giants Blumhouse, found itself pushed to December of 2016, only to be pushed yet again to January 2017. January came and went, and much like a picky ghost who doesn't want to fool around with your stupid EVP device, Amityville never appeared. Cut to today, and it looks like Amityville: The Awakening will finally see the light of day.
The film will first debut exclusively for free for a limited time on Google Play on October 12, 2017. After that, the plan is to release it in select theaters on October 28, 2017, just in time for Halloween. There you have it – you can check this thing out for FREE if you use Google Play, or you can attempt to trek to one of the select theaters showing it later. There's always a chance, however, that the film will be pulled from release yet again.
Amityville: The Awakening trailer
Written and directed by Franck Khalfoun, Amityville: Awakening stars Bella Thorne, Jennifer Jason Leigh, Cameron Monaghan, Taylor Spreitler, Mckenna Grace, and Jennifer Morrison, all of whom would probably be perfectly fine with the film never coming out at all at this point. The story follows a family that movies into the infamous Amityville house, where the spirits don't stay very quiet for very long.
The entire Amityville saga was inspired by the purportedly true story of the Lutz family, who moved into a house in Amityville, off the shore of Long Island, New York in the 1970s, only to discover it was haunted and possibly infested with demons. The Lutz's story generated a best selling book, but later was revealed to have all been a hoax – although some still maintain it really happened. The book inspired the 1979 film The Amityville Horror, which then spawned several sequels and a 2005 remake starring Ryan Reynolds. This latest Amityville offering was originally pitched as a found-footage style reboot of the franchise before blossoming into whatever the heck it is today.
Belle, her little sister, and her comatose twin brother move into a new house with their single mother Joan in order to save money to help pay for her brother's expensive healthcare. But when strange phenomena begin to occur in the house including the miraculous recovery of her brother, Belle begins to suspect her Mother isn't telling her everything and soon realizes they just moved into the infamous Amityville house.