'The Commuter' International Teaser Trailer: Liam Neeson's Latest Looks Ludicrous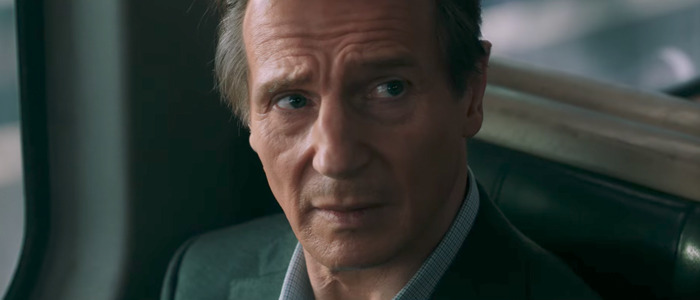 Earlier this month, we were treated to the first teaser for Spanish filmmaker Jaume Collet-Serra's newest action thriller The Commuter, which reunites him with his frequent collaborator Liam Neeson (Non-Stop, Unknown, Run All Night). That trailer featured a small glimpse at the blend of goofiness and deadly seriousness with which Collet-Serra tends to approach genre movies like these, but a new international teaser has just come out, and this thing makes me want to inject the film directly into my veins as soon as possible.
The Commuter teaser trailer
The first trailer was much more contained, but this one opens up the world and gives the characters some room to breathe, showing us Neeson's character out and about beyond the claustrophobic confines of the commuter train. It also introduces us to more of the cast beyond simply Neeson's everyman and Vera Farmiga's mysterious femme fatale,  including Breaking Bad and Better Call Saul star Jonathan Banks – looking as Mike Ehrmantraut-y as ever – as a sketchy-looking passenger. Plus, there's some hand-to-hand fights, gunplay, Patrick Wilson shows up for a hot second, and if you weren't on board after all of that, the trailer's final seconds give us a look at an action setpiece that's so preposterously, enjoyably dumb that it looks worthy of the price of admission all by itself.
Writers Byron Willinger and Phil de Blasi, making their professional screenwriting debut here, appear to have been feeding on a steady diet of B-movie schlock when they came up with this concept, and it's almost spooky how well this seems to fit in with the types of thrillers Collet-Serra has made in the past. It may just be a smartly-made trailer that brings familiar aspects to the forefront, but either way, this looks like exactly the type of nonsensical-in-the-best-way story that Collet-Serra was born to direct.
In this action-packed thriller, Liam Neeson plays an insurance salesman, Michael, on his daily commute home, which quickly becomes anything but routine. After being contacted by a mysterious stranger (Vera Farmiga), Michael is forced to uncover the identity of a hidden passenger on his train before the last stop. As he works against the clock to solve the puzzle, he realizes a deadly plan is unfolding and is unwittingly caught up in a criminal conspiracy. One that carries life and death stakes, for himself and his fellow passengers.
The Commuter pulls into theaters on January 12, 2018.