New 'Versace' Teaser And Images Reveal The Next 'American Crime Story'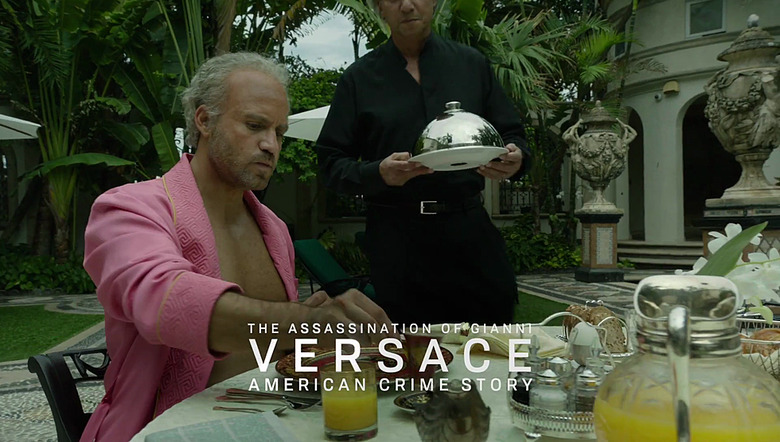 FX had a huge hit on their hands with The People v. O. J. Simpson: American Crime Story, and now they're close to uncovering their next crime saga, The Assassination of Gianni Versace: American Crime Story. A New American Crime Story images and a teaser have surfaced to give us a brief but tantalizing glimpse at what's to come. You can see them below.
The People v. O. J. Simpson: American Crime Story featured some of 2016's best acting and writing, creating the kind of buzz-worthy TV that audiences (and network executives) salivate over. Now American Crime Story is hoping to keep that buzz alive with their upcoming season The Assassination of Gianni Versace. During the Emmy Awards last weekend, FX aired a teaser that featured glimpses of their shows to come, and nestled amongst the footage was the first real look at Versace.
Versace Teaser
ScreenCrush highlighted several images as well, which feature Édgar Ramírez as Gianni Versace and Penélope Cruz as Donatella Versace.
The Assassination of Gianni Versace also stars Annaleigh Ashford, Darren Criss, Nico Evers-Swindell, Max Greenfield, Ricky Martin and Finn Wittrock, and will focus on the 1997 murder of fashion designer Gianni Versace. Versace was killed at his Miami Beach mansion by spree killer Andrew Cunanan. Originally, the second season of American Crime Story was going to focus on events surrounding Hurricane Katrina. "I want this show to be a socially conscious, socially aware examination of different types of crime around the world," said executive producer Ryan Murphy. "And in my opinion, Katrina was a f***ing crime — a crime against a lot of people who didn't have a strong voice and we're going to treat it as a crime. That's what this show is all about."
But the Katrina season was eventually delayed to sometime in 2019, with season 2 now focusing on the Versace murder.
"I kept going back to Versace because it was different from O.J. tonally," said Murphy. "It was a manhunt and it takes place all over the country...The more I had read about it, the more I was startled by the fact that Cunanan really was only allowed to get away with it because of homophobia. There was this great apathy about it, and I think part of that was because it seemed like gay people were disposable in our culture."
There's no date yet for the new season of American Crime Story, but expect more footage and images to find their way online as the year continues.