New 'The Last Jedi' Images Arrive To Tide You Over Till The New Trailer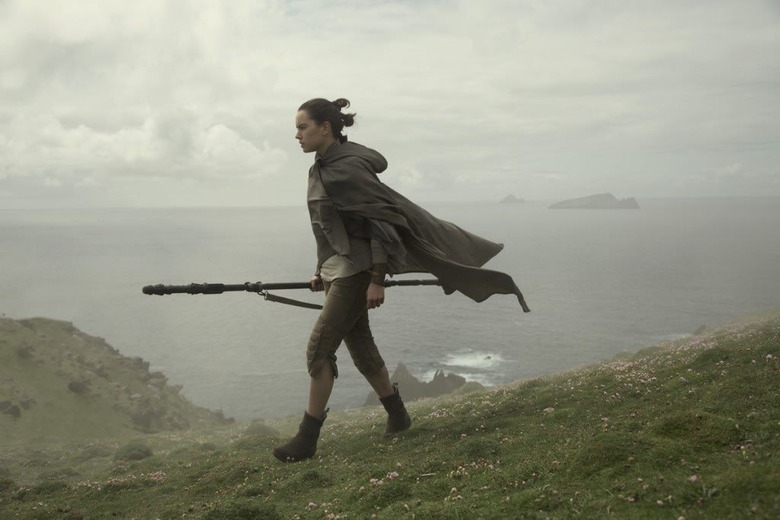 Word on the virtual street is that a brand new trailer for Star Wars: The Last Jedi is coming very, very soon. As exciting as that may be, if you're impatient, you want something now. You're in luck! Some new The Last Jedi images have sprung-up online, and with them have come some higher-quality, non-watermarked versions of images previously released by EW. See the new The Last Jedi images below.
Disney and Lucasfilm have done an excellent job of keeping most details of The Last Jedi under wraps, and while that may not appeal to people who want all spoilers, all the time, there's something commendable about the fact that such a high-profile film has remained so mysterious. Even The Force Awakens, which also had a notoriously guarded pre-release roll-out, offered up more info than what we have on The Last Jedi.
What we do have though are images, and lots of them. Making Star Wars has uncovered two brand new images, including Captain Phasma (Gwendoline Christie) looking shiny and chrome and General Hux (Domhnall Gleeson) looking goth as hell and sporting an overcoat that I absolutely want to own come winter. Seriously, if anyone knows where I can get that exact coat, hit me up.
Meanwhile, a bunch of other images you likely have seen already, but not in such high-quality, have arrived online. Many of these appeared in EW, but now we have them without watermarks. That's right, now you have crisp, clean images you can print out and hang on your bedroom mirror. Every morning when you wake up, you can stare into the mirror, see the images, and whisper "I am become Star Wars." Or you can just look at them online, whatever floats your boat.
These images feature Rey (Daisy Ridley) looking fierce in her training; Luke looking grizzled with his big hermit beard; Finn (John Boyega) still wearing Poe's jacket; Poe (Oscar Isaac) looking handsome as hell as he jogs down a hallway; new character Rose Tico (Kelly Marie Tran) chilling with Finn; and of course, Carrie Fisher as General Leia Organa, making us all a little sad. Oh, and of course, there are porgs. The one person missing that we desperately need more of: Laura Dern and her glorious purple hair. Come on, make with the Dern.
Take a gander at the higher-quality The Last Jedi images below and then keep counting down the days until the new trailer release. Rian Johnson's Star Wars: The Last Jedi opens December 15, 2017. I might be wrong, but I have a feeling it'll be a big hit with the kids.