'The Meyerowitz Stories' Trailer Gives Adam Sandler An Excuse To Act Again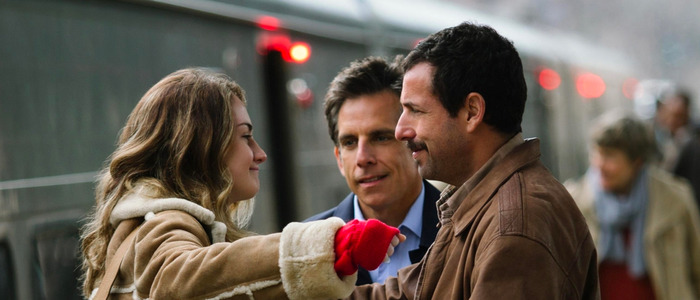 Every once in a while, Adam Sandler decides to stop making paid vacations disguised as movies and turn in a genuinely good performance. The best example is his work in Paul Thomas Anderson's Punch-Drunk Love, which proved Sandler could turn his short-tempered man-child routine into something genuinely compelling. Now Sandler is at it again with Noah Baumbach's The Meyerowitz Stories. Baumbach has surrounded Sandler with quite a cast, and you get a better glimpse of them all, as well as Sandler's performance, in the new The Meyerowitz Stories trailer.
The Meyerowitz Stories follows a group of siblings, played by Sandler, Ben Stiller and Elizabeth Marvel, who gather together in New York to celebrate the work of their father, artist Harold Meyerowitz (Dustin Hoffman). The cast also features Candice Bergen, Rebecca Miller, Adam Driver, Judd Hirsch, Sigourney Weaver and Emma Thompson, who looks absolutely incredible here and might deserve an entire movie of her own.
There's not exactly anything new here from Baumbach. From the looks of this trailer, The Meyerowitz Stories has him firmly within his wheelhouse, dealing with upperclass intellectuals with parental issues. Still, while this is familiar ground for the Frances Ha director, it's a ground he knows how to survey particularly well. Add Dustin Hoffman and his big old beard in there, and we've got something exciting.
As for Sandler, it's easy to be bogged down by his lackluster films, many of which have debuted recently on Netflix, the distributor of The Meyerowitz Stories. But Sandler can be an excellent actor, and Punch-Drunk Love is the prime example of this. There, the actor took the type of character he had been playing in his comedies and turned it into a tragic, poetic figure. It was wonderful to watch, and I only wish Sandler would stretch himself like that more.
Perhaps this film will grant me my wish. When The Meyerowitz Stories played at Cannes earlier this year, it garnered plenty of positive reviews, the majority of which were directed at Sandler.  The Telegraph review in particular signaled out Sandler:
Adam Sandler has been bad in so many awful films that when he's terrific in a great one, it's both a revelation and a windfall – like you're digging around at the back of the garden shed for the first time in years and find a Picasso propped up against the wallpaper steamer.
Sandler, in particular, is asked to go places he hasn't been as an actor since Punch-Drunk Love — and he gets there so seemingly effortlessly, and with such comedic precision and control of sentiment (the way he plays Danny's relationship with his daughter is delightful), you wonder what it would take for him to do it more often.
Reviewing the film for Vanity Fair, Jordan Hoffman wrote:
But even if Sandler's immature comedies make you ill (an understandable reaction), his turn here as the neglected older son with a big heart and a limp is tremendous. He's a loser but not a dope—and just when you think this character is veering into cliché, he'll show a shade that jostles your perception.
At Cannes, Baumbach spoke a little about how The Meyerowitz Stories enabled him to continue to develop his style as a filmmaker:
"On [The Meyerowitz Stories], I felt like I kind of figured that out the best I've figured it out so far...That the movement and the storytelling, I felt like I'd kind of broke through something that I've been trying the last few movies to figure it out. The second half of Mistress America has a lot of moving, and almost an old, screwball comedy kind of set, with people going in and out. [Frances Ha] has some of that, too...But I felt on this one that Robbie Ryan, the DP, and I kind of cracked something. I think it was helpful, because he hadn't worked this way before, so I kind of was describing what I wanted, but I think kind of having an outside eye on what I was trying to do opened up what I did do on this movie."
Noah Baumbach's The Meyerowitz Stories (New and Selected) will play at the NYFF before it premieres on Netflix October 13, 2017.
From writer/director Noah Baumbach, The Meyerowitz Stories (New and Selected) is the emotional and comic intergenerational tale of adult siblings (Adam Sandler, Ben Stiller, and Elizabeth Marvel) contending with the long shadow their strong-willed father (Dustin Hoffman) has cast over their lives.