'The Punisher' Trailer: Jon Bernthal Is Here To Kick Ass And Shoot You In The Face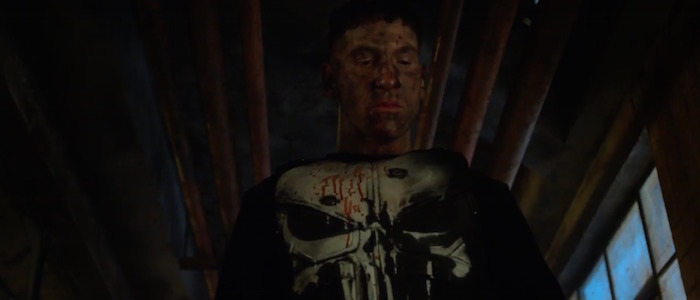 Jon Bernthal's Frank Castle was the highlight of the uneven Daredevil season 2. Marvel's unhinged vigilante can be a tough nut to crack (and incredibly boring when cracked incorrectly), but this take on the character, deranged and broken and terrifying, felt like a home run. At least it felt like a home run during his limited screen time in a show about another Marvel hero. Now, we'll have to see if he can hold up in an entire series built around him.
The first full The Punisher trailer has arrived online, offering an extended look at the latest Marvel series hitting Netflix this year.
Marvel's Netflix shows have always been unapologetically violent and The Punisher looks like it'll take the violence to giddy extremes. After all, Daredevil and the rest of the Defenders tend to take bad guys down, not obliterate them with shotguns and heavy machine guns. And man-oh-man, this trailer is just chock-full of Bernthal's Frank obliterating people with shotguns and heavy machine guns. This isn't John Wick-esque stylized action, either (even though the first teaser borrowed some familiar imagery) – this is an angry brute with a death wish fearlessly unloading thousands of bullets on his enemies. As long as every action scene isn't set in Marvel Television's trademark Action Hallway, this could be a bloody good romp.
The trailer is all about Bernthal, really. Cut and sweaty and glowering and constantly covered in the blood of his enemies, he appears to be giving the character everything he has. When we saw the first footage from the series at Comic-Con earlier this year, he was clearly enthusiastic about the part, taking the mic on stage to introduce a clip and dedicating his take on the character to the men and women of the armed forces. Since this series retcons Frank's origin story so the people responsible for the murder of his family are part of a government conspiracy and not low-rent crooks, I wonder how this will play out. After all, stories of soldiers being let down by the forces that made them into who they are feel more timely than ever.
This is the side of the character I find the most intriguing – what happens when you train a man to be an expert killer and then take everything he cares about away from him? What kind of damage does that do? What's left?
Those questions were mostly unexplored in the lousy-but-fun 1989 Punisher movie starring Dolph Lundgren and the just plain lousy 2004 film starring Tom Jane. They were also unexplored in 2008's Punisher: War Zone, a gaudy, trash masterpiece that wields style like a sledgehammer. This new series looks more grounded than War Zone but more personal and intense than the first two movies. If the grueling magic of Frank Castle's scenes from Daredevil season 2 can maintain their power over 13 solo episodes (and if the series can avoid the Marvel Netflix series habit of crapping the bed around the halfway point), this could be an action series I embrace. Hell, this could be the definitive live-action take on the Punisher. I'm crossing my fingers.
The Punisher is run by Steven Lightfoot and stars Ben Barnes, Ebon Moss-Bachrach, Amber Rose Revah, Deborah Ann Woll, Daniel Webber, Jason R. Moore, Paul Schulze, Jaime Ray Newman, and Michael Nathanson. Netflix hasn't unveiled a release date yet, but the trailer promises that it will arrive at some point in 2017.