'Terminator' Sequel Sets A Release Date, Linda Hamilton Returning To The Franchise [Updated]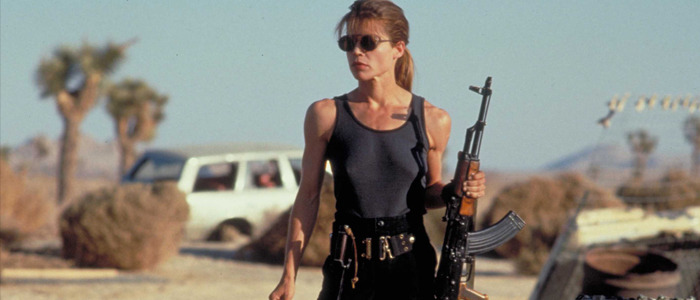 Update: The untitled Terminator sequel has set a release date for July 26, 2019.
One of cinema's iconic sci-fi heroes is making her triumphant return to the big screen. Linda Hamilton, who played Sarah Connor in the Terminator franchise, is officially signed on to reprise the role in a new Terminator movie that will be directed by Deadpool filmmaker Tim Miller and produced by James Cameron. And of course, Arnold Schwarzenegger is along for the ride, too. But is this reunion enough to convince you that a new entry in this stale franchise will be worthwhile?
Last night, The Hollywood Reporter hosted a screening of Terminator 2: Judgment Day in 3D on the Paramount Pictures studio lot, and Cameron and Miller were there in person to talk a bit about their plans for the future of the franchise. Cameron himself announced Hamilton's return, saying:
"As meaningful as she was to gender and action stars everywhere back then, it's going to make a huge statement to have that seasoned warrior that she's become return...There are 50-year-old, 60-year-old guys out there killing bad guys," he said, referring to aging male actors still anchoring movies, "but there isn't an example of that for women."
Cameron has a point: Hamilton's transformation into a hardened warrior in the 1991 sequel was an impressive turn for the actress (especially considering what she was like at the beginning of the first movie), and Sarah Connor has become a bonafide sci-fi icon. (Most recently, Game of Thrones star Emilia Clarke played the role in 2015's Terminator Genisys.) And though we haven't seen an Expendables movie for a while, his point about aging male action stars is also valid, with people like Harrison Ford and Sylvester Stallone making action films well into their 60s.
Then again, our own Hoai-Tran Bui has already explained why we need many different types of female action stars on screen, and this is another example of the traditional loner badass taking the forefront. Perhaps Cameron will learn from his tone-deaf Wonder Woman comments he made recently and give his former wife a bit more to chew on this time around.
In any case, this new still-untitled Terminator sequel is being treated as a direct sequel to Judgment Day, and "the themes of the potential evils of technology" will be front and center. The sequel is based on a story created by Cameron himself and fleshed out with the help of a writers room that included people like David Goyer (Christopher Nolan's Dark Knight trilogy), Charles Eglee (Cameron's co-creator of the TV series Dark Angel), and Josh Friedman (creator of Terminator: The Sarah Connor Chronicles). That room generated ideas for a new trilogy that has entries that work as individual films or form an overarching story, but it's unclear how far along in the writing process they are at this stage.
Schwarzenegger is coming back as well, and while we're unsure if he'll be friend or foe to Sarah this time around, the other piece of information gleaned at this event was that the filmmakers are looking to create an opportunity to pass the baton to a new generation of characters within this franchise.
"We're starting a search for an 18-something woman to be the new centerpiece of the new story," Cameron said. "We still fold time. We will have characters from the future and the present. There will be mostly new characters but we'll have Arnold and Linda's characters to anchor it."
This franchise just won't stay down, even after multiple disappointing sequels have tarnished its legacy. Call me naive, but after reading some of Cameron's comments about his intentions for a new movie and now with the return of Hamilton's incarnation of Sarah, I'm ready to be won over by a new Terminator movie again. What do you all think? Is there a chance this will be good, or is the Terminator franchise too far gone to be saved?