Matthew Vaughn Wants To Make 'Kingsman 3' And Spin-Off Movies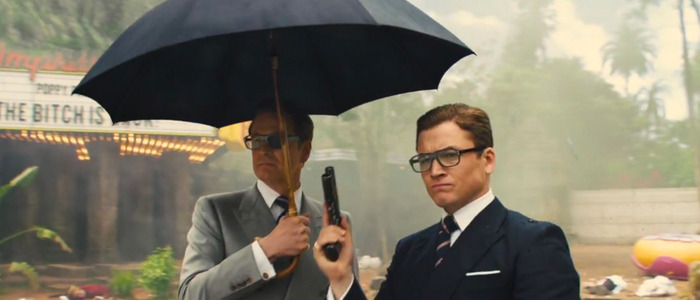 Matthew Vaughn's latest, Kingsman: The Golden Circle, smashes its way into theaters this weekend. The early word has not been overly kind, nor have they been devastating. "[An] exhausting, exhilarating watch," seems to be the biggest takeaway from the film, and 20th Century Fox wants to keep that exhilaration alive while turning it into box office returns. If you're someone who wants more Kingsman in their lives, you're in luck, because Matthew Vaughn wants to make Kingsman 3 and then some spin-offs to boot. Are you prepared for more well-dressed people shooting guns at each other?
Mixed reactions aren't enough to stop the franchise machine. Vaughn and 20th Century Fox are keen to ride the Kingsman hype into the stratosphere, drawing plans to make one more Kingsman sequel with Kingsman 3 before branching off into individual character spin-offs. When asked by CinemaBlend if the Kingsman saga might continue indefinitely, Vaughn was both honest and practical about the prospect:
I think there's a story in my head which will be finished by the end of the next one. And then after that then, of course, there could be Statesman movies, there could be spinoff character films. The universe could continue with new agents. Or, you know, Colin (Firth) could become Arthur (...) or new characters could come in. Or new kids get trained. There's so many options, but I also think it's better not to be too greedy.
After all, why cast Channing Tatum as a badass American cowboy secret agent if you weren't considering giving him a spin-off movie?
However, Vaughn is deliberately vague about just which characters could get their own spin-offs, but I personally wouldn't be adverse to a spin-off focused on Sofia Boutella's character Gazelle from the first film. Sure, she may have died, but so did Colin Firth's character, and they found a way to bring him back for The Golden Circle. And of course, there's always the option of prequels. The possibilities are endless here, as long as the box office returns are good.
Early tracking for Kingsman: The Golden Circle has been steady, with THR reporting the film is "projected to open in the $40 million to $45 million range," which is "ahead of the $36.2 million domestic debut of Kingsman: The Secret Service." The Golden Circle will face some strong competition at the box office, though, going up against the continued phenomenon that is It and the more family-friendly The Lego Ninjago Movie. Time will tell if Vaughn gets to complete his Kingsman Trilogy and get to work on spin-offs.