Wes Anderson's 'Isle Of Dogs' Trailer Is Here, And What Good Dogs They Are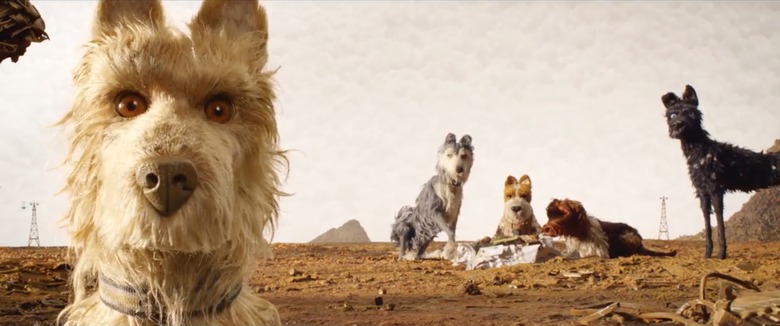 There's a chill in the air. It's time to bust out the corduroy suit and take another journey to Wes Anderson country, where everything is symmetrical, everyone has father issues, and the soundtracks are off the hook. Wes Anderson's Isle of Dogs trailer has arrived to enchant the hell out of you. Like Fantastic Mr. Fox, this is another stop-motion treat from The Royal Tenenbaums helmer. The Isle of Dogs trailer is ready to wow you below.
The first Wes Anderson film since 2014's The Grand Budapest Hotel, Isle of Dogs is another stop-motion animated comedy that assembles the usual gaggle of Anderson performers, and some new ones to boot: Bryan Cranston, Edward Norton, Bill Murray, Jeff Goldblum, Kunichi Nomura, Greta Gerwig, Frances McDormand, Courtney B. Vance, Fisher Stevens, Mari Natsuki, Harvey Keitel, Koyu Rankin, Liev Schreiber, Bob Balaban, Scarlett Johansson, Tilda Swinton, Akira Ito, Akira Takayama, F. Murray Abraham, Yojiro Noda and Yoko Ono. I'm out of breath just typing all of that.
Rumors of Isle of Dogs have stretched all the way back to 2015, when Bill Murray dropped word that he was making another Mr. Fox-like film with frequent collaborator Anderson: "I'm playing a dog. He's doing another, like a stop motion animated kind of comedy sort of like Fantastic Mr. Fox. And it's a Japanese story and I'm playing a dog. I'm very excited."
Set in Japan, Isle of Dogs follows a young boy on a quest to find his lost dog (voiced by Norton). Anderson lists two surprising sources of inspiration for the film: Rankin-Bass Christmas TV specials and the work of Akira Kurosawa. "I really liked these TV Christmas specials in America," Anderson said. "I always liked the creatures in the Harryhausen-type films, but really these American Christmas specials were probably the thing that really made me want to do it."
"The new film is less influenced by stop-motion movies than it is by Akira Kurosawa," he added.
Anderson has long been a fan of stop-motion and animation in general. In addition to Fantastic Mr. Fox, the filmmaker originally crafted an animated version of Grand Budapest Hotel. Anderson also had the following to say regarding animation:
With live action, you have an immediacy. With an animated film, you can't predict accidents and surprises. With a movie like this, when it's actually being animated, as carefully as you prepare the shot and all the details, frame by frame, every animator comes up with a different interpretation. Their personalities, interests and strengths come through. You never quite know what it's going to be. The feeling of being in control but nervous and excited about the unknown is the same.
Isle of Dogs will open March 23, 2018.