'The Deuce' Season 2 Is Coming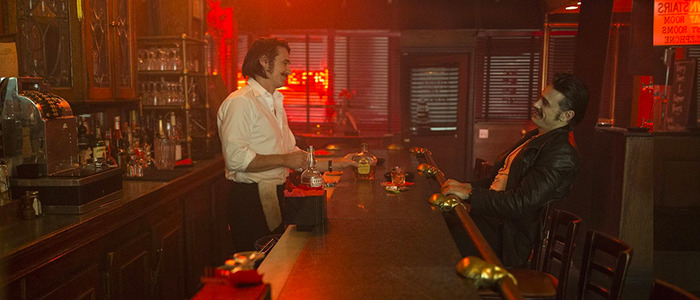 HBO's latest series The Deuce is relatively new, having only aired two episodes so far. It seems the reaction to those two episodes was apparently good enough for HBO, because today they announced that the show has been renewed: The Deuce season 2 is officially happening.
"We are thrilled to continue our creative collaboration with master storytellers David Simon and George Pelecanos," said Casey Bloys, President of HBO Programming, announcing the show's renewal for a second season. "Their unique gift for immersing the audience in their dark and edgy worlds brings a brilliant verisimilitude unlike any other. With the remarkably talented Maggie Gyllenhaal and James Franco leading an exceptional cast, we look forward to delving deeper as this captivating story evolves."
The HBO series from The Wire creator Simon and crime author Pelecanos is set in the nitty, gritty of New York City in the 1970s, chronicling the rise of porn culture in the Big Apple. The series takes place in a world of "barkeeps, prostitutes, pimps, police and nightlife denizens as they swirl through a world of sex, crime, high times and violence, and the porn business begins its climb from Mafia-backed massage parlors and film labs to legitimacy and cultural permanence."
"Everyone involved with this project is genuinely grateful to HBO for the chance to take the narrative where it needs to go," said Simon. "We knew the theme and purpose of the story, but there are many people in the entertainment industry who might not have it told, or worse, would have told it for the wrong reasons. HBO is a serious outfit. And they don't scare."
"Many thanks to HBO, our longtime partners, who've now given us the opportunity to continue to tell this compelling story," added Pelecanos. "We're ready to get back to work with our amazing cast and crew."
Reviews for The Deuce have been overwhelmingly positive, with a 91% on Rotten Tomatoes. /Film's own Karen Han praised the show, saying "There's a curious kind of romanticism attached to 1970s New York City. The Deuce, created by David Simon and George Pelecanos, delves straight into it, setting a tone that's just as delightfully pulpy, and introducing a cast of pimps, sex workers, gangsters, and cops (including twins played by James Franco) that rivals Game of Thrones in sheer scope. In its first two episodes, we get a glimpse of each of their lives, as well as the first inklings of where the whole enterprise is headed."
The praise and renewal are promising, but it would be wise to remember a previous HBO series with a similar setting: Vinyl, which boasted a pedigree of Martin Scorsese, Mick Jagger, and Terence Winter among its producer. The series, set in the drug fueled rock world of New York in the '70s earned some early praise and got a quick renewal for a second season, yet the series declined in quality and the second season was eventually cancelled.
Hopefully the same fate doesn't await The Deuce, and in that show's defense, it's already much better than Vinyl. The Deuce airs Sundays at 9 PM on HBO, so borrow your mom's HBO GO password and catch-up with it if you haven't yet.