Someone Drew A Penis In A Children's Netflix Cartoon And Parents Aren't Happy About It [Updated]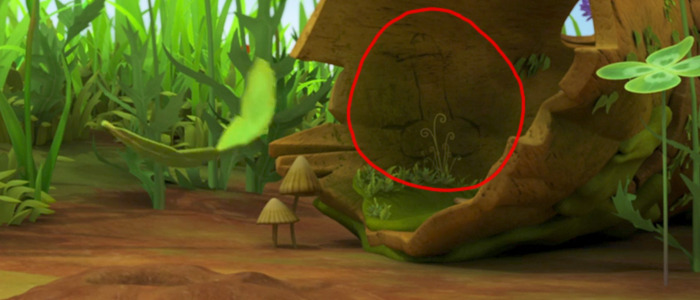 Update: The controversy must have reached the ears of Netflix executives, because the episode in question has now been removed from the streaming site. Our original article follows.
Last week, Netflix released the first season of American Vandal, an eight-episode documentary parody of true crime stories like The Jinx and Making a Murderer in which the central mystery revolves around someone spray-painting penises on teachers' cars in the school's parking lot. But now it looks like Netflix has a real life dick mystery on their hands, because an angry mother has noticed that an artist snuck a drawing of an erect penis into the background of a children's cartoon that airs on the streaming service.
BoingBoing picked up the mother's reaction to the picture on Facebook, where she apparently said, "I know I'm not going crazy and I am aware that something like this shouldn't be in a kids' show whatsoever. I'm extremely disgusted by it; there should be no reason my children have to see something like this. I don't know if they're gonna do something about this or what but there's no reasons why this should be in this show." (The post itself is private, so that quote is relayed from The Mirror, who apparently has someone on staff who's friends with this woman.)
For the record, as of the time of this writing, Netflix has not done anything about it...yet. Since I'm doing important journalistic work here, I checked on the veracity of this claim myself, and indeed, the dong is clearly visible in the background of an episode of Maya the Bee, as seen in the screenshot at the top of this page. For anyone wanting to see it for yourselves, it's in episode 35 of season one, and can be seen inside a log at the 18:45 mark.
The Netflix Penis Drawing Isn't An Isolated Incident
While we aren't certain of the reasoning behind why an artist would decide to include this dick-drawing in the background of a children's TV series, this is far from the first time something like this has happened. While many of the claims that have popped up against companies like Disney are erroneous and falsified products of the digital age or unprovable whispers from oversensitive parental groups, there were a number of incidents that were proven to be true.
Charles Shows, who worked at Walt Disney Studios in the 1950s and '60s, recounted in his book that he and a few other employees intended to test Disney's notorious eye for detail by slipping a single frame of a naked woman into a reel of a Mickey Mouse cartoon they were screening for him. Sure enough, Walt spotted it. But that frame was never meant to be seen by the public.
Years later, a home video release of Disney's The Rescuers was recalled in 1999 due to the discovery of a couple of frames of a real photograph of a topless woman in the background of one shot of the lead mice characters in the movie. (We can't publish those screenshots here, but you can see them at Snopes.) Disney representatives at the time claimed the photograph was inserted not by one of their artists, but by someone in the post-production process.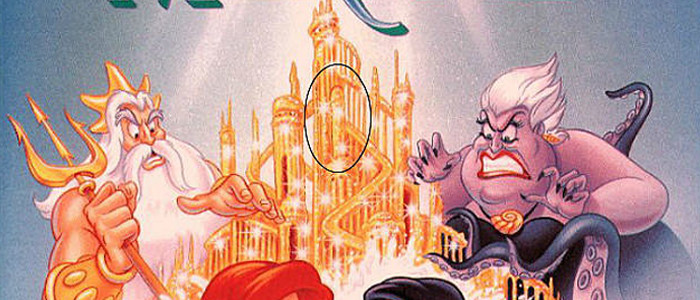 Claims of an erect penis being hidden in the undersea castle in posters and the VHS cover of The Little Mermaid are complicated to grapple with. Snopes says they spoke to the artist, who told them the dick-shaped tower was an unfortunate coincidence. In any case, the story that it was inserted by a disgruntled artist angry at Disney about being laid off by the studio doesn't hold water, because that artist worked for a third party company. But still...that kind of looks like a dick to me.
The idea of the priest in that same film having an erection, though, seems more open to interpretation. Some claim it's simply that character's knobby knee poking out under his uniform, but as you can see in the comparison video above, the studio was concerned enough about it to make a change for subsequent re-releases.
And you've likely heard the one about the word "sex" being visible in The Lion King when Simba lays down on the grass and kicks up a bunch of grass and particles where the letters can maybe be spotted...if you're looking hard enough. You can decide for yourself if you believe that claim by watching the video above.