Dealt Trailer: This Magical Audience Award Winning Doc Aims To Inspire & Amaze You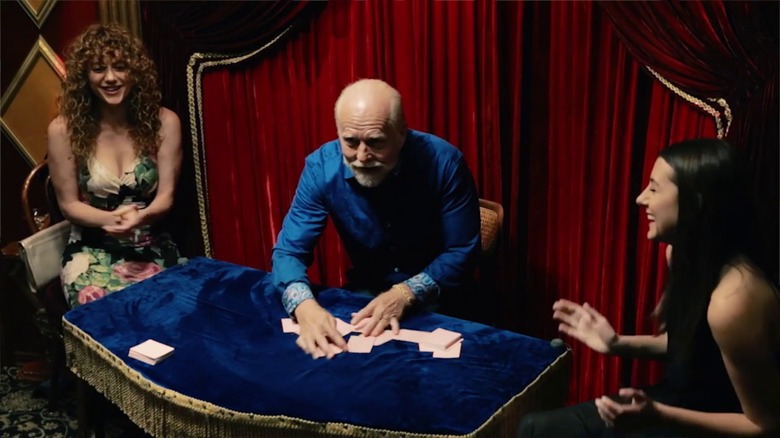 As you probably know by now, I'm a magic fanatic. I've written in the past about my favorite magic movies, and even my audition experience joining Los Angeles' prestigious Magic Castle as a magician member. One of the movies I was really bummed to have missed at Sundance this year is a documentary titled Dealt about Richard Turner, one of the greatest card magicians of our time.
I've seen Turner perform in the close-up gallery at the Castle and his card skills are some of the best I've ever seen. The fact that he is a blind man is just insane. And it's not something that is advertised. He isn't introduced as a blind man, it's only five or so minutes into his routine that the audience begins to realize that the amazing card feats they've been watching have been performed by a person without the ability to see. Hit the jump now to watch the Dealt trailer and get a glimpse of Richard Turner in action.
Dealt Trailer
Dealt has been making the film festival rounds where it was an official selection of the Sundance Film Festival and won the audience award at the SXSW Film Festival. I've only seen Richard's magic and don't know much about his story, so I'm very excited to finally see this film, which hits theaters and VOD next month. The film looks like a fascinating, inspiring, and emotional portrait of a man who has perfected his art despite the cards that life has handed him.
If you want to see some of Richard Turner's magic, here is a clip from his appearance on Penn & Teller's Fool Us where he actually fools the famous magic duo:
The official synopsis for Dealt follows:
One of the most renowned card magicians of all time, Richard Turner astounds audiences around the world with his legendary sleight of hand. What they may not even realize – and what makes his achievements all the more amazing – is that he is completely blind. Charting Turner's colorful life from his tumultuous childhood to the present, DEALT reveals how through determination and force of will, he overcame seemingly insurmountable obstacles to rise to the top of his profession. It's both a tantalizing, up-close look at the secretive world of magic and a candid, awe-inspiring portrait of a man who lives beyond his limitations.
Dealt hits theaters and VOD on October 20, 2017.