'Just Getting Started' Trailer: Morgan Freeman And Tommy Lee Jones Battle For Supremacy At A Retirement Resort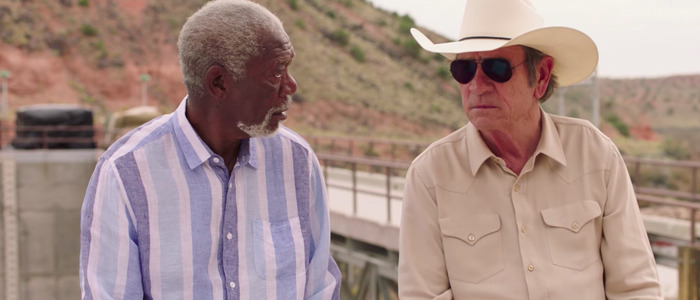 Director Ron Shelton built his career making sports movies like Bull Durham, White Men Can't Jump, Tin Cup, and Play It To The Bone, but now his most recent feature was 2003's Hollywood Homicide, a quasi-buddy comedy that featured the main characters butting heads but ultimately working together to achieve a goal. Now, 14 years later, he's back with Just Getting Started, yet another film in which the leads squabble and eventually join forces. But this time, the gimmick is that he's directing old guys: Morgan Freeman and Tommy Lee Jones star in this goofy-looking comedy, and you can watch the new trailer right here.
Just Getting Started trailer
Anyone else getting a Dirty Rotten Scoundrels vibe here? I tend to underestimate films like this, but they're clearly aiming toward an underserved audience – older adults – and since the cast is so damn likable, maybe this will be exactly what they're looking for.
I'm about to offer a theory about what happens based only on what I've seen from this trailer, so if you're concerned about potentially being spoiled, maybe click away now. You don't hire Rene Russo just to stand there and serve as eye candy for these two guys as they compete for her attention, so it seems clear to me that in a movie like this, she's going to end up being the one who is hired by the mob to kill Freeman's Duke. And knowing movies like these, I wouldn't be surprised if she ends up getting charmed by these guys, they all fake their deaths at the end, and live happily ever after, free and clear of the mob.
But again, Shelton certainly knows what he's doing when it comes to character dynamics like the ones seen here, so hopefully this will be better than other old guy comedies like Going in Style or Last Vegas.
From Ron Shelton, writer/director of Tin Cup and Bull Durham, comes the new comedy, Just Getting Started. Morgan Freeman stars as Duke Diver, the freewheeling manager of the luxury Palm Springs resort, the Villa Capri. Diver may have a mysterious past, but he's a pro at making sure that life for the high-spirited residents is one big, non-stop party. But the status quo is challenged when ex-military charmer Leo (Tommy Lee Jones) checks in, triggering a competition between Duke and Leo for the top spot of Alpha male, as well as for the affections of the newly-arrived Suzie (Rene Russo). When Duke's past suddenly catches up with him, the rivals put aside their differences and the two men reluctantly team up to stop whoever is trying to kill Duke, and also save the Villa Capri.
Just Getting Started arrives in theaters on December 8, 2017.