John Stamos Leading 'Willy Wonka And The Chocolate Factory' In Concert, With Weird Al And Finn Wolfhard Co-Starring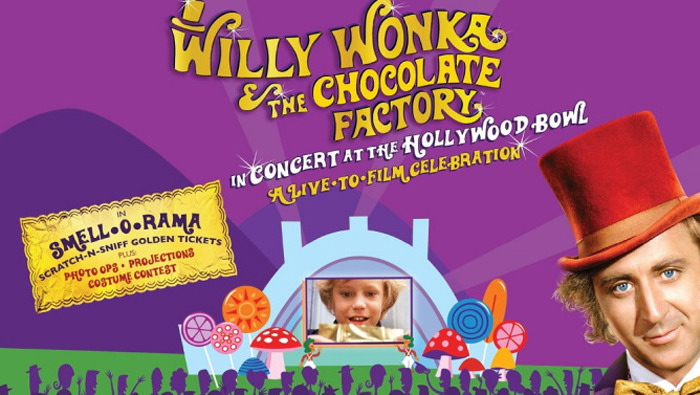 Almost a year ago, we heard that Warner Bros. was developing a new movie based on the early adventures of Willy Wonka, the enigmatic chocolatier immortalized in the pages of Roald Dahl's novel Charlie and the Chocolate Factory and memorably brought to life by the late Gene Wilder in a 1971 movie adaptation. But while movement on that project has been quiet, there's another new Willy Wonka coming to town.
This November, Full House star John Stamos will star as Willy Wonka live in concert at the Hollywood Bowl, alongside Weird Al Yankovic as the Oompa Loompas (?!) and Stranger Things and It star Finn Wolfhard as Charlie Bucket.
Variety broke the news about the officially-titled "Willy Wonka and the Chocolate Factory in Concert at the Hollywood Bowl: A Live-to-Film Celebration," which will be a mixture of scenes from the '71 film, live musical performances, singers, dancers, and much more. Giancarlo Esposito (Breaking Bad) is playing The Candy Man, Richard Kind (Inside Out) will play Grandpa Joe, and the production will feature the presence of two other professional musicians aside from Weird Al: Ingrid Michaelson will play Mrs. Bucket, and Elle King will play the bratty Veruca Salt.
Some of the songs that will be performed live include "Pure Imagination," "I Want It Now," "The Candy Man," "I've Got a Golden Ticket," and "Oompa-Loompa Doompadee-Doo," all of which will be backed by "multi-instrumental band DeVotchka and a musical ensemble conducted by Jeff Hoeppner." To get an idea of what's in store, you can watch some videos from the production of The Little Mermaid Live at the Hollywood Bowl from last year, since the two projects share a director in Richard Kraft.
So let's talk about this casting for a second, shall we? Stamos seems far too...well...normal to play a role like Wonka, and when you have someone as iconoclastic and unique as Weird Al Yankovic already involved, it seems like Al would be the perfect fit for such an eccentric character. We know Stamos has solid pipes since he's appeared in multiple Broadway musicals and is an occasional member of the Beach Boys, but there's an unpredictability about Wonka that I'm not convinced he can properly emulate. But at least he sounds like he has a personal connection to the material:
"Willy Wonka is the first movie I ever saw," said Stamos. "The film was released at a time when you could bring your own popcorn to the movie theater. I filled a whole grocery bag full of popcorn, but never touched it because I was so fascinated with what was going on behind Willy's eyes.  Gene Wilder as Willy was pure magic. Every time I watch the movie, and I've watched it more than several hundred times, I find something new. It becomes deeper, weirder, more charming and more of a mystery."
Finn Wolfhard seems like he'll be a fine Charlie, Esposito is an inspired choice for The Candy Man (I can easily picture him slaying his single song), and Richard Kind as Grandpa Joe could turn out to be one of the most pleasant surprises of the whole show.
In keeping with the interactive vibe of the story, the entire experience will be presented in Smell-O-Rama, meaning that each attendee will receive a Scratch-N-Sniff Golden Ticket; there will also be costume contest and special visual projections on the surface of the Bowl from an artist named Shag. This sounds like a truly bizarre event, which at least fits well with the surreality inherent to Dahl's original story.
Tickets go on sale on September 23 at 10am, and the event will take place on two nights: November 3 and November 4, 2017.