New 'Frozen' Broadway Musical Images Let It Go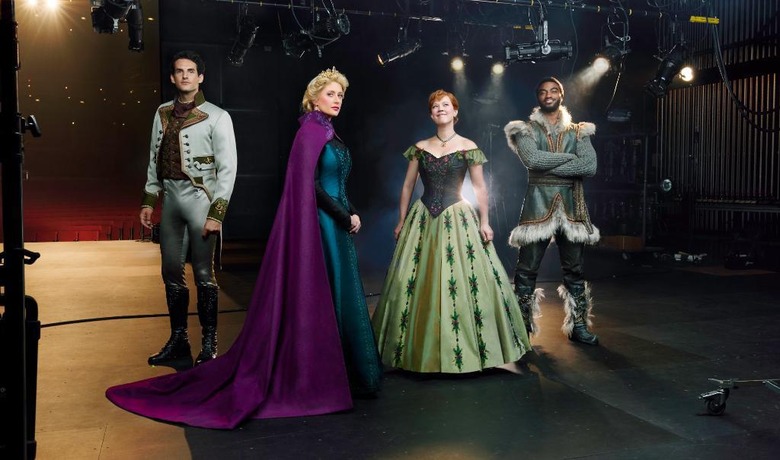 Frozen is the latest Disney property to take to the Broadway stage, and Disney has unleashed an avalanche of new images to chill you to your bones (Am I doing this right? Snow!). Check out the new Frozen Broadway musical images below!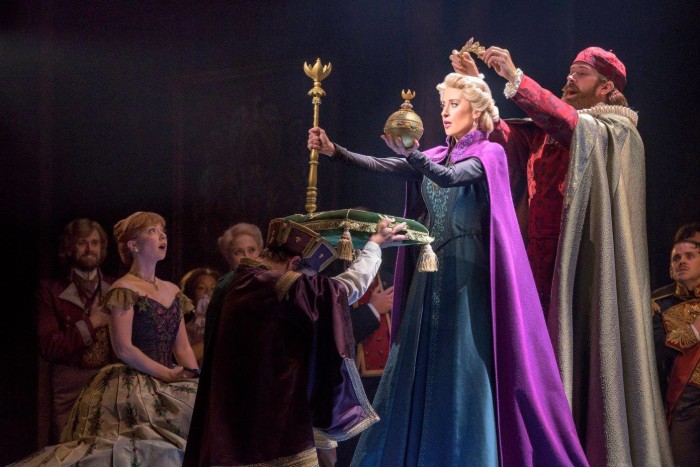 Broadway's take on Frozen will begin performances at the St. James Theatre in February of 2018, but you don't have to wait until then to get a new glimpse of the human counterparts to Disney's animated hit as new images have been released. Broadway vets Caissie Levy plays ice queen Elsa and Patti Murin plays her sister Anna, roles originated in the Disney film by Idina Menzel and Kristen Bell, respectively.
The images give us a glimpse of the way the production has leapt from animation to live-action, with costume design (courtesy of Christopher Oram) that matches-up quite well with the original film as well as some stunning set design, also by Oram. Below you'll find images that depict not just Elsa and Anna but also Hans (John Riddle), Kristoff (Jelani Alladin) and even Sven the reindeer (Andrew Pirozzi). No sign of Olaf, though. He must be chilling backstage. (Sorry.)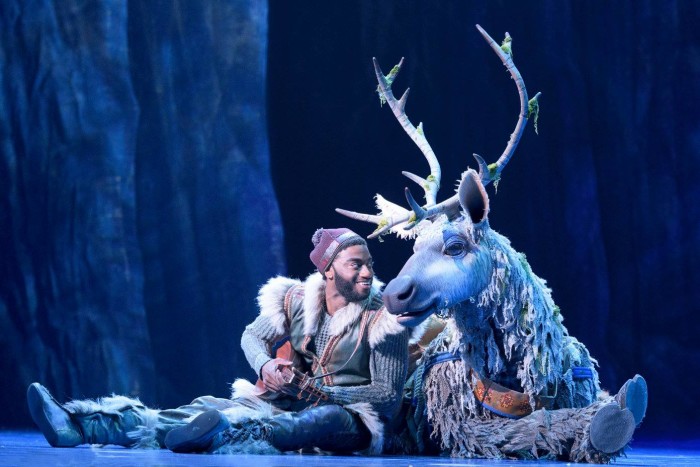 Frozen is currently playing an out-of-town tryout at the Buell Theatre in the Denver Center for the Performing Arts through October 1, 2017, where it's been generating good early buzz, before it makes the leap to Broadway, where it will join the ranks of of Disney-to-Broadway musicals The Lion King, Beauty and the Beast, Aladdin and The Little Mermaid. Of those mentioned, only The Lion King is still playing, making it the fourth longest-running show in history as well as the highest-grossing Broadway production of all time. A Broadway adaptation of The Hunchback of Notre Dame debuted in Germany before coming to America but failed to materialize on Broadway. Sorry, Quasimodo.
Reviewing the out-of-town Frozen tryout, Variety commented that the production "wows adults as much as kids with a brilliant spectacle" thanks to special effects design by Jeremy Chernick, who performed special effects duties on Harry Potter and the Cursed Child. The Broadway adaptation of Frozen will remain mostly true to the film while also adding its own unique twist on certain elements. For one thing, the trolls from the film have been cut, replaced by "a group of scruffy (covered in greenery), sexy (greenery only goes so far), tailed creatures, called hidden folk, drawn from Scandinavian folklore and chanting in Norwegian."  Variety also adds:
[I]n bringing "Frozen" to the stage, director Michael Grandage and his production team have made the show crisp and original. We might even say better — or at least satisfyingly different — than the movie, while being faithful to it.
The creators have added heft and gravitas without making the story darker or scarier — although parents may have to explain what a sociopath is when addressing the personality turnabout in romantic interest Hans. And of the new songs written by Kristen Anderson-Lopez and Robert Lopez to complement their original score for the film, most deepen the musical's guiding lesson.
The original Disney film focused on royal sisters Elsa and Anna, and the trouble that arises once Elsa's powers to summon ice and snow are revealed. Much singing and Josh Gadding follows. The film was a blizzard-sized hit, taking in a worldwide total of $1.276 billion and becoming the fourth-highest-grossing film distributed by Disney. The Broadway adaptation features music and lyrics by Kristen Anderson-Lopez and Robert Lopez, who created of the film's score, and a book by Jennifer Lee, the film's screenwriter and co-director.
Frozen begins previews on Broadway February 22, 2018 before officially opening March 22, 2018, but if Hamilton has taught me anything about Broadway shows, that means you should probably just get in line now.
ARRIVING ON BROADWAY FEBRUARY 2018 A FAMILY. A SECRET. AN UNFORGETTABLE JOURNEY. This is the timeless tale of two sisters, pulled apart by a mysterious secret. Both are searching for love. They just don't know where to find it. Created for the stage by an award-winning team, this stunning new production comes alive on Broadway through exquisite stagecraft and deepens the beloved story with twice as many songs as the original film. Discover that love is a force of nature....at Disney's new musical, Frozen. PERFORMANCES BEGIN FEBRUARY 2018 AT THE LEGENDARY ST. JAMES THEATRE.