Trailer Roundup: 'Gaga: Five Foot Two', 'Three Billboards', 'The Foreigner', And More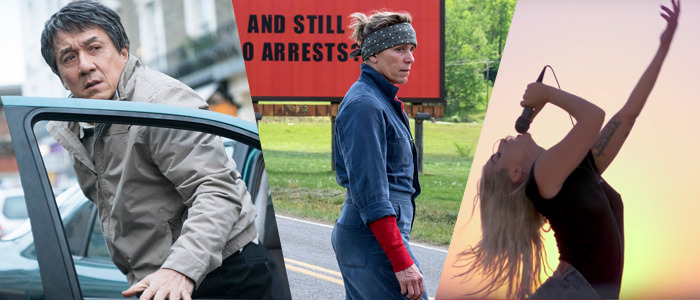 Sometimes, while we're buried in the deluge of never-ending movie news, a few trailers manage to slip past us. But in an effort to never miss anything essential, we take hold of our metaphorical novelty-sized butterfly net, reach back, and scoop them up for articles just like this one. In this trailer round-up, get the newest looks at The Foreigner, Gaga: Five Foot Two, Three Billboards Outside Ebbing, Missouri, and more.
Three Billboards Outside Ebbing, Missouri
One of my most anticipated movies of the year recently won the audience award at this year's Toronto International Film Festival, and since we're talking about the new film from Martin McDonagh (In Bruges), it's easy to see why this is going to be something that gets people talking.
Three Billboards hits theaters sometime this November.
Gaga: Five Foot Two
Here's an intriguing trailer for a new documentary about Lady Gaga that Netflix is releasing later this month. But instead of just being a concert film like their Justin Timberlake doc from last year, this one looks like more of a behind-the-scenes piece that follows the artist all over the place as she gears up for a major show. The best part about this trailer is the way it's cut almost like a horror movie, with tons of disconnected imagery and a surreal score. I wouldn't really call myself a Lady Gaga fan, but after watching this trailer, now I'm interested in seeing what this doc has to offer.
Gaga: Five Foot Two hits Netflix on September 22, 2017.
The Foreigner
Have you been wondering what Martin Campbell, the director of Goldeneye and Casino Royale, has been up to lately? Wonder no more! He's been behind the camera of a new revenge film starring Jackie Chan and former Bond Pierce Brosnan, and while this looks a little cheesy and formulaic, the combination of talent involved all but assures that I'll be checking this out at some point.
The Foreigner arrives in theaters on October 13, 2017.
The Opera House
Firstshowing points us to the trailer for The Opera House, a documentary about New York City's famed Metropolitan Opera House at Lincoln Center that will play at this year's New York Film Festival. While I'm sure it'll play well for the NYC crowd who could to walk past that building every day and actually go there regularly, I'm not sure how well something like this will do in the wider world. But for a doc about the making of an opera house, at least it looks like there's a compelling narrative underneath the glitz and glamor.
My Little Pony: The Movie
What if I told you that Emily Blunt, Michael Pena, Zoe Saldana, Uzo Aduba, Taye Diggs, Liev Schreiber, Kristin Chenoweth, and Sia were all in the same movie, and it was coming out this year? Well, now you'd know that movie is My Little Pony: The Movie, which looks like a throwback to the adventure-driven animated films of my youth, only...you know...pony-fied.
My Little Pony: The Movie bursts into theaters on October 6, 2017.