Watch: Ride Footage From Disneyland's 'Guardians Of The Galaxy – Monsters After Dark'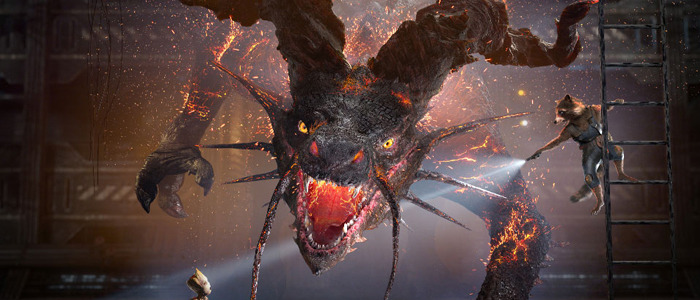 We've written about how Disneyland's new Guardians of the Galaxy ride is getting a new look for the Halloween season in the form of an overlay called Monsters After Dark, and late last week we told you about how it features a look at the fire dragon Surtur from the upcoming film Thor: Ragnarok. Now a video of the updated attraction has found its way online, and you can check out the whole thing for yourselves below.
Before you dive into the video, allow me to set the stage. Disneyland's first Marvel-themed E-ticket attraction, Guardians of the Galaxy – Mission: BREAKOUT!, is only a few months old, but the theme park overlords have decided to give it a whole new look. The story that guests experience during Monsters After Dark picks up immediately after the events of Mission: BREAKOUT!, in which Rocket Raccoon realizes he and the rest of the Guardians have left Baby Groot behind during their escape from The Collector's prison, and they have to rescue him while dodging all of the creatures that were released while they made a break for it. Now that you're all caught up, check out the video (courtesy of Inside The Magic).
Guardians of the Galaxy Monsters After Dark ride footage
Granted, watching someone else go on a ride is never as cool as doing it yourself, but for those who can't make it to the park during this Halloween season and are still curious about this Marvel-themed adventure, this will have to do.
For those of you who are in the Southern California area and are planning on making the trip to Anaheim, here's the best part: you're not forced to choose between Mission: BREAKOUT! and Monsters After Dark because they're both available; Mission takes place during the day, and Monsters takes over the attraction once nighttime rolls around. So if you time it correctly, it's possible to check out both in the same day and get the full Guardians experience at Disneyland. And if you're interested enough in the ride to build your day at the park around it, you'll definitely want to check out our own Peter Sciretta's exhaustive list of more than 80 easter eggs he discovered at the ride (most of which are in the queue area).
Monsters After Dark runs from now until October 31, 2017. Take a look at the pre-show in the video below: