'Good Omens' First Look: David Tennant And Michael Sheen Rock Dyed Hair And Colorful Suits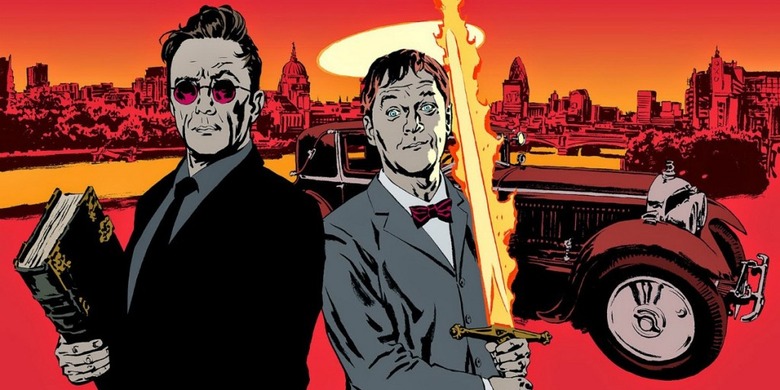 Monday has arrived with some good omens, indeed.
Neil Gaiman, who will be writing and running the miniseries adaptation of his and Terry Pratchett's 1990 novel Good Omens, released the first look at stars David Tennant and Michael Sheen in costume as the demon Crowley and angel Aziraphale, respectively. Three words: Blonde. Michael. Sheen.
It was an inspired piece of casting for the Amazon and BBC miniseries to bring on Tennant as the devil-may-care (pun intended) Crowley and Sheen as his fussy, uptight foil.
Now with principal photography beginning in London for the miniseries, The Good Omens first looks shows the two actors already inhabiting their roles, with Tennant striking a pose beneath his dyed red locks and rocker-style suit and Sheen looking prim, with his bleach-blonde hair perfectly matching the color of his tan suit.
They are amazing. This is them in the opening scenes, 11 years ago, in St James's Park. David and Michael, demon & angel. #GoodOmens pic.twitter.com/ceK4XYY881

— Neil Gaiman (@neilhimself) September 18, 2017
Gaiman's caption refers to the beginning of the book, which takes place in a flashback 11 years before the Apocalypse, when the longtime enemies-turned-unlikely-allies strike a deal to avert the end of the world. It's not as grim as the situation appears, however — Good Omens is more offbeat fantasy-comedy than bleak apocalypse story. Described as a part fantasy-drama, part horror-comedy series, Good Omens takes place in 2018 "when the Apocalypse is near and Final Judgment is set to descend upon humanity," according to Deadline. Unfortunately, someone has misplaced the Antichrist, prompting Crowley and Aziraphale to join a race to find him and stop the end of the world.
Gaiman tweeted the picture from the London set and said Monday:
"People have fallen in love with an angel and a demon in a book by Terry Pratchett and me, and they have been excited and nervous to see how they would appear on screen — and I was probably the most nervous and excited of all... Michael Sheen is the best and finest of bookseller angels, David Tennant the coolest and most delightful of demons. Together they are one hell of a double act (or do I mean one made in Heaven?)"
Good Omens will be Gaiman's second time acting as a showrunner for a series, creating Neverwhere for BBC in 1996, which he later adapted into a book. The Hugo Award-winning writer has frequently written for television series like Doctor Who, and Babylon 5, but this will be his first time spearheading an adaptation of one of his works. More recently, Bryan Fuller's TV adaptation of American Gods has made waves over at Starz.
Gaiman initially refused to adapt Good Omens himself, stating that he and co-writer Terry Pratchett had agreed to adapt it together. But when Pratchett passed away in March 2015, Gaiman received a post-humous letter from his co-writer giving Gaiman his blessing to adapt Good Omens and requesting that Gaiman write the adaptation himself. Soon, Amazon announced Gaiman was working on a miniseries adaptation earlier this year, and the production has moved quickly from the page to the set. It's a happy ending for a project that had long languished in development hell after Terry Gilliam's planned film adaptation of Good Omens starring Robin Williams and Johnny Depp fell through in 2002.
Good Omens will be directed and executive produced by Emmy winner Douglas Mackinnon, known for Sherlock and Outlander. The miniseries also stars Jack Whitehall, Michael McKean, Miranda Richardson, Adria Arjona, Nina Sosanya, Ned Dennehy, and Ariyon Bakare.
Shooting will continue for six months in London, Oxfordshire and South Africa. The series is aiming for a 2019 premiere.