'Gilbert' Trailer: Gilbert Gottfried Is Surprisingly Chill In A New Biographical Documentary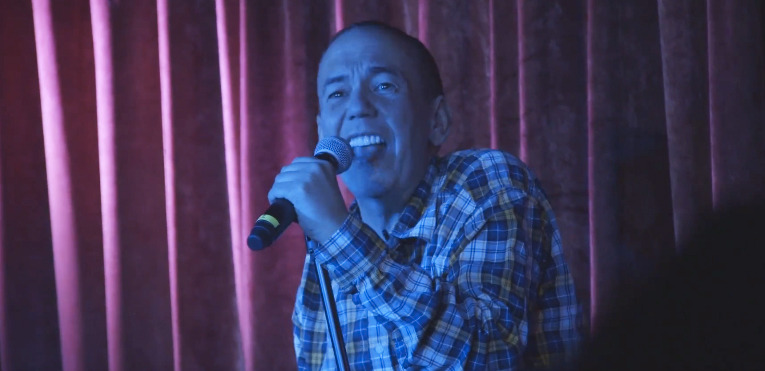 Comedian Gilbert Gottfried is best known by general audiences for being a wholly inappropriate comedian with an extremely grating voice. They may not know his name, but they recognize that signature voice, the same one that brought Jafar's parrot sidekick Iago to life in Disney's Aladdin. But they definitely don't know the real Gilbert Gottfried.
Gilbert is a documentary that debuted at the Tribeca Film Festival this past spring, and it's finally arriving in theaters this year. You might be surprised when you hear Gottfried speak during interviews in this documentary, because his voice isn't piercing your ears as it usually does. Because Gottfried doesn't talk like that all the time – it's part of the calculated character he's created for his stage persona, and the real Gottfried is even more fascinating, sweet and wonderful than you could have ever imagined.
Watch the Gilbert Gottfried documentary trailer below to see what we're talking about.
As you can see in the trailer, the documentary features an impressive array of comedians who would call themselves Gottfried's friends. Those interviewed include but are not limited to Jim Gaffigan, Anthony Jeselnik, Jay Leno, Dave Atell, Lewis Black, Whoopi Goldberg and Bill Burr. Even the blurbs praising the doc come from the likes of Judd Apatow, Howie Mandel and This American Life's Ira Glass.
But for me, the most interesting stuff is getting a glimpse into the real life of Gilbert Gottfried. His wife and kids are featured here, and it's lovely to see how tender and quiet he is with all of them. Gottfried's time spent talking into the camera and answering questions posed by director Neil Berkeley (who previously directed Harmontown, a documentary following Rick and Morty co-creator Dan Harmon) is surprisingly reserved and honest.
The documentary feels like an expansion of the scene from the documentary Life Animated where Gottfried showed up to surprise a young autistic man named Owen Suskind, who was obsessed with Disney movies and could endlessly quote the lines yelled by Iago in Aladdin (the two even appeared together on Night of Too Many Stars a couple years ago). That was such a touching sequence, and this feels like it expands on that in a very personal way.
Here's the official description from the film's debut at Tribeca earlier this year:
Legendary comedian Gilbert Gottfried has had quite the career. Rocketing to fame in the 1980s, he was thrust into the public consciousness almost immediately thanks to his brash personality, unique worldview, and off-kilter comic timing. Now, foul-mouthed and unapologetic after decades of flying solo in both his work and in his personal life, Gilbert has shockingly reinvented himself...as a family man.
Director Neil Berkeley's Gilbert reveals an unexpected side to the iconic comedian. The film peeks behind the larger-than-life persona at a more personal story about growing up in Brooklyn and becoming a husband and father late in life. Gottfried's singular outlook on life and his ability to bring humor to even the darkest situations has, at times, gotten him into trouble. Still he soldiers on, an expert craftsman at bringing his audience to the edge (and sometimes pushing them over). Gilbert strips the comedic character away to reveal the man behind it. Berkeley allows the audience an intimate — even vulnerable — view of Gottfried out of character.
Gilbert opens in New York City on November 3, 2017 and in Los Angeles on November 10, 2017.