'Narcos' Location Manager Found Shot Dead In Mexico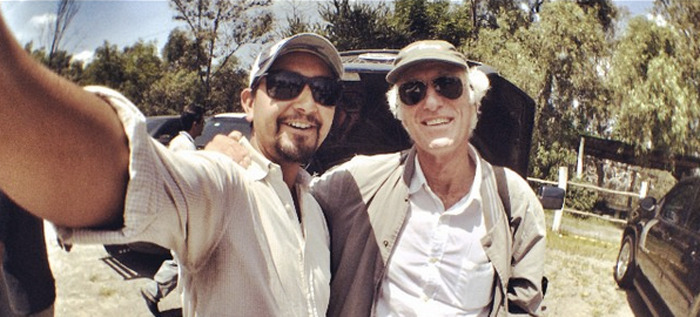 The series Narcos on Netflix is about the dangerous world of drug trafficking in Colombia, focusing on the real-life stories of drug kingpins in the late 1980s who were more than guilty of committing heinous crimes in the name of illegal entrepreneurship in the middle of the heat brought on by the war on drugs. For the next season of the show, the action was moving to Mexico, where sadly one crew member of the series has become a victim of the dangerous world of crime in the nation.
Shocking news came from across the border this weekend as Narcos season four location manager Carlos Muñoz Portal (pictured left) was found dead in a rural area outside of Mexico City, having been the victim of multiple gunshots. Find out more below.
The Hollywood Reporter called our attention to a story that originated at the Mexican news outlet El Pais. Carlos Muñoz Portal, 37 years old, was said to be scouting the area solo for possible shooting locations for the Netflix series. Unfortunately, The Los Angeles Times indicates that the area he was in is close to the border of Hidalgo, the Mexican state with the highest homicide rate, though at this time the motive for the shooting is unclear.
Narcos production was moving from Colombia to Mexico as the narrative on the show was making the same move as it focuses on the Juarez drug cartel. But with this tragic news, it remains to be seen if production will still be moving to Mexico, which has frequently been a dangerous place for TV and film productions to shoot in.
Portal had been working as a location manager in Hollywood for 13 years, having been part of the crew on movies such as Man on Fire, The Legends of Zorro, Apocalypto, Fast & Furious, Elysium, Sicario, and Spectre, where the location manager worked alongside director of photographer Roger Deakins (seen in the photo above, from Portal's Instagram). This would have been his first time working on Narcos.
Netflix issued a brief statement expressing their condolences:
"We are aware of the passing of Carlos Muñoz Portal, a well-respected scout, and send our condolences to his family. The facts surrounding his death are still unknown as authorities continue to investigate."
Portal's death is another in a line of tragic deaths that have happened to film crew members this year, following the death of stunt people on both The Walking Dead and Deadpool 2. We'll be sure to let you know when more details about this tragedy come to light. Our condolences go out to Carlos Muñoz Portal's family during this difficult time, and we hope those involved in this crime are brought to justice.