'Kingsman: The Golden Circle' TV Spots: Robot Dogs And The Safety Dance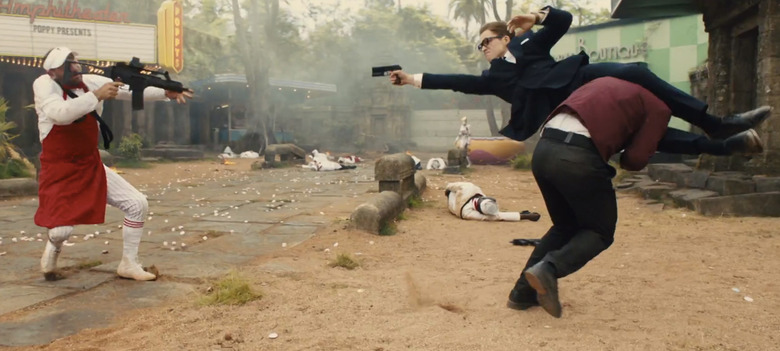 Blockbuster summer may be over, but there's still a big dose of action coming this month in the form of the comic book sequel Kingsman: The Golden Circle.
Taron Egerton is back as Eggsy, and this time the secret spy agency that took him off the streets and put him into some fancy suits is a little worse for the wearer, with a criminal organization known as The Golden Circle taking out their headquarters. Some new footage has arrived online giving us even more insight into the villainous organization led by Julianne Moore, including revealing some of their high-tech tools of the trade.
Watch the new Kingsman: The Golden Circle TV spots below for a taste of the action.
First up, here's the new promotional clip that debuted on The Ellen Show recently:
The video plays as an introduction to The Golden Circle as if they were your average company letting employees know what they do. Julianne Moore's chipper attitude about their evil intentions is rather unsettling, but it's the presence of robot dogs and Channing Tatum hopping around to the tune of "Safety Dance" wearing a tanktop onesie with his cowboy hat and boots that takes the cake. We're not sure what's going on with all these new revelations from the sequel, but we'll find out soon enough.
To check out more footage from Kingsman: The Golden Circle, here are a couple new TV spots:
Mark Strong and Colin Firth are both returning from Kingsman: The Secret Service while other new cast members include Jeff Bridges and Pedro Pascal on the side of Statesman, the American cousins of Kingsman. Surely teaming up these two branches of spies will yield some hilarious and ass-kicking results.
If you'd like to see more from Kingsman: The Golden Circle, check out the most recently released red band trailer right here, and check out our full rundown of all the footage shown at San Diego Comic-Con back in July.
Kingsman: The Secret Service introduced the world to Kingsman – an independent, international intelligence agency operating at the highest level of discretion, whose ultimate goal is to keep the world safe. In "Kingsman: The Golden Circle," our heroes face a new challenge. When their headquarters are destroyed and the world is held hostage, their journey leads them to the discovery of an allied spy organization in the US called Statesman, dating back to the day they were both founded. In a new adventure that tests their agents' strength and wits to the limit, these two elite secret organizations band together to defeat a ruthless common enemy, in order to save the world, something that's becoming a bit of a habit for Eggsy...
Kingsman: The Golden Circle hits theaters September 22, 2017.