'True Lies' Is Getting A TV Series Reboot At FOX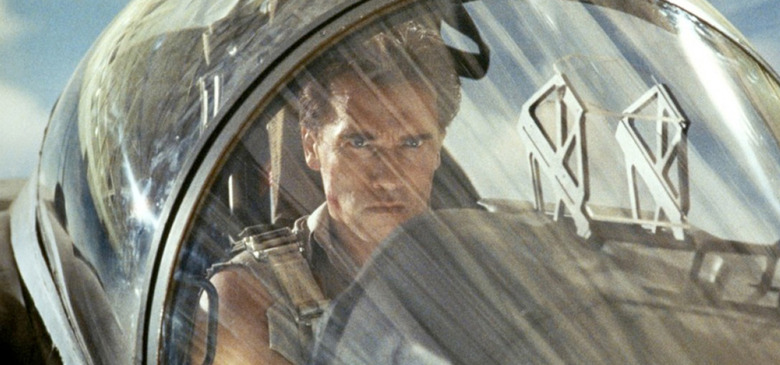 Though Terminator 2: Judgment Day is obviously the more acclaimed and beloved collaboration between director James Cameron and star Arnold Schwarzenegger, there is still plenty of love for the action comedy True Lies out there. The film has inexplicably yet to be released in high-definition, and you can't even find it to download or stream anywhere. Thankfully, James Cameron says that will change sometime in the near future, but we don't know when.
In the meantime, it looks like we may get a new version of True Lies on television before the original movie ends up available in an HD format. James Cameron is executive producing a TV series reboot of True Lies in the works at 20th Century Fox Television, but unfortunately, there's one name involved that makes us a little less excited about this prospective TV show.
The Hollywood Reporter has the news about the True Lies TV series is in the works. Much to our dismay, Terminator Salvation director McG has been tapped to executive produce the series and direct the pilot. However, before that can happen, the script by Arrow executive producer Marc Guggeheim needs to be finished. The good news is that True Lies already has a put-pilot order from FOX, which means we'll see it air on television unless the network pays a penalty to the studio
True Lies follows a family man named Harry Tasker (Arnold Schwarzenegger) who kept his work as a spy a secret from his wife Helen (Jamie Lee Curtis) and daughter (played by a young Eliza Dushku). But thanks to a series of mishaps, Helen gets caught up in a terrorist plot involving nuclear weapons (and featuring Wayne's World star Tia Carrere as the villain), allowing ample comedy and action to ensue.
It's been 23 years since the original movie hit theaters in 1994, and since then there has been demand from fans to see a True Lies sequel on the big screen. While there have been rumblings about True Lies 2 coming together over the years, the closest the property has come to getting revived came when ABC was looking to turn the movie into a TV series back in 2010, but that never came to fruition.
This new True Lies TV series iteration would be a flat out reboot that doesn't involve Arnold Schwarzenegger at all. It's not clear how the story would be adapted to television, but the idea of putting a suburban couple in the middle of large scale action isn't exactly a difficult premise to transfer from the big screen to TV. But since McG hasn't really delivered much in the vein of quality programming
It also marks the second time James Cameron will be bringing one of his films starring Arnold Schwarzenegger to television after FOX previously created the short-lived Terminator: The Sarah Connor Chronicles back in 2008. Here's hoping True Lies is a more successful television adaptation of James Cameron's original movie.