TV Bits: 'Cobra Kai' Plot Details, 'The Punisher' Images, 'Star Trek Discovery' Reviews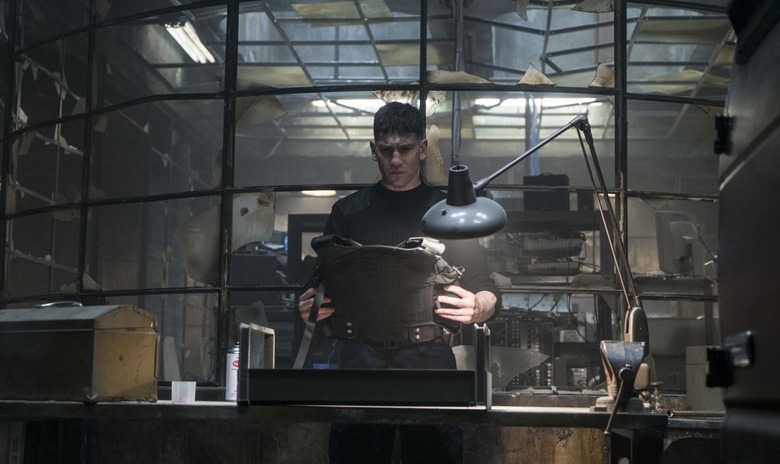 In this edition of TV Bits:
Plot details revealed of YouTube Red's Karate Kid sequel, Cobra Kai.
The Punisher releases its first official images.
CBS won't lift the Star Trek Discovery review embargo until it airs.
The Game of Thrones season 7 Blu-ray is packed with new details and bonus content.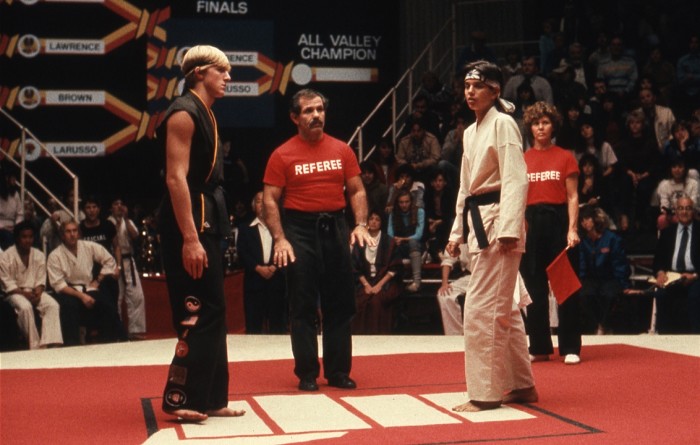 Karate Kid spawned three sequels and a reboot, all about the scrappy underdog — the first two about Ralph Macchio's Daniel, whose mantle was then picked up by Hilary Swank and (kind of) Jaden Smith — who bests the all-American bully. But what happens to the bully of the story?
Thirty years later, and he gets his turn to be the hero too. William Zabka's Johnny Lawrence, who was the abrasive, blond bully who terrorized Daniel in the first Karate Kid will get the spotlight in Cobra Kai, the YouTube Red 10-episode comedy series named after Johnny's dojo in the film. In new plot details of Cobra Kai released by MovieHole, Johnny is now a down-on-his-luck septic tank cleaner who is so ragged that he gets mistaken for a homeless man. Desperate, he reopens the old Cobra Kai dojo and ends up taking in a bullied convenience store clerk named Miguel, finding himself on the other side of the story. While his reopened dojo once again puts him at odds with his old foe Daniel, who is a successful businessman with a perfect life, the two may end up teaming up against the new age bullies: 'wrestler' Kyler and his thug brothers who think karate is a "joke."
Hopefully when the series rolls around in 2018, it'll make bring back Bananarama's iconic "Cruel Summer" once again.
It looks like The Punisher will be both an origin story and a continuation for Jon Bernthal's Frank Castle after he left his burning house at the end of Daredevil season 2 with a weapons cache in hand and vengeance on his mind. The new official stills showing flashbacks of his time as a United States Marine, as well as interactions with Daredevil's Karen Page (Deborah Ann Woll) and a whole cast of new characters including Ben Barnes as Billy Russo (the civilian name of the villain Jigsaw), former NSA analyst Micro (Ebon Moss-Bachrach), young veteran Lewis Walcott (Daniel Webber), Frank's old friend Curtis Hoyle (Jason R. Moore), CIA agent Rawlins (Paul Schulze), Micro's wife Sarah Lieberman (Jaime Ray Newman), Homeland agent Sam Stein (Michael Nathanson), and his partner Dinah (Amber Rose Revah).
A new synopsis for the series has also been revealed:
After exacting revenge on those responsible for the death of his wife and children, Frank Castle (Jon Bernthal) uncovers a conspiracy that runs far deeper than New York's criminal underworld. Now known throughout the city as The Punisher, he must discover the truth about injustices that affect more than his family alone.
Though Bernthal is a genre television pro, appearing in supporting roles in The Walking Dead and Daredevil, this will be his first time leading a superhero series — and it's all thanks to his scene-stealing turn in the second season of Daredevil. In an interview leading up to the series' premiere on Netflix this fall, Bernthal spoke to Entertainment Weekly about the burden of becoming a leading man, even if the man is a murderous, vengeful vigilante.
"It might be the Frank Castle inside me, but I'm always thinking things could be headed for the worst. I'm horrified all the time. Look, there was an unbelievable response to the Frank we put out there in Daredevil, and it means the world to me, and I'm so grateful, and I do not want to let people down."
Bernthal goes on to talk about how Frank reflects the darkness "in all of us," but what I want to know is when Kastle (the ship name for Karen Page and Frank Castle) is going to happen. Come one, she's in three out of the 12 promotional stills! I need them to make doe eyes at each other for 12 episodes.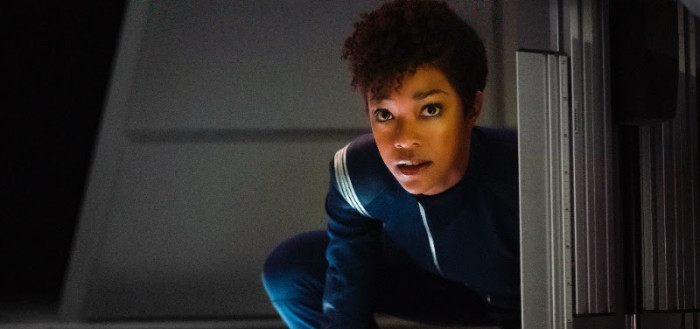 Want to find out what critics think about Star Trek Discovery? Well too bad, because CBS is prohibiting all reviews of the CBS All Show to be released until its premiere on September 24, 2017.
In case you hadn't read the Mashable piece about the correlation between a movie's review embargo lift date and its Rotten Tomatoes score, this is bad news.
Trekkies are going into Star Trek Discovery with high expectations since it is the first Star Trek show to hit the airwaves — or in this case, the internet waves — in 12 years, and features its first non-Captain main character (Sonequa Martin-Green), not to mention a Captain of color played by Michelle Yeoh. But preventing fans from seeing critic reactions to the show means that the network is not confident in its quality — which may mean that this long-awaited series will be a huge disappointment.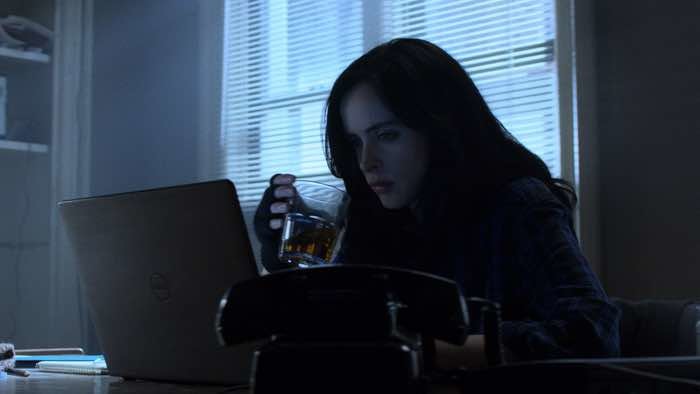 Speaking of superhero scene-stealers, the saving grace of the Defenders miniseries has just wrapped production of her second season. There's no set date for its Netflix premiere, though it will likely be in mid-2018.
Jessica Jones stars Krysten Ritter and series newcomer Diane Gibson were spotted on their respective Instagram accounts celebrating the completion of the second season of the Netflix-Marvel series, which will pick up shortly after the private eye had snapped Kilgrave's (David Tennant, who was curiously seen on the season 2 set) neck. It takes place too after the events of Defenders, which saw her reuniting with old flame Luke Cage (Mike Colter) and striking up a brief — but electric — friendship with Matt Murdock (Charlie Cox). Will the second season deal with her reeling from Matt's supposed death? Will she face Kilgrave once again? Will Jessica and Matt end up together? (I'm sorry, one of the things that gets me through these Marvel series is shipping characters. But you can't deny that Jessica and Matt would be SO HOT.)
You may still be reeling from the game-changing Game of Thrones season 7 finale, but you can process it with the soon-to-be-released Blu-ray, DVD, and digital editions of the HBO fantasy show. Each of the versions are jam-packed with extra features to decipher and analyze, and will help tide you over until season 8 makes its belated premiere in 2019.
The Blu-ray and DVD will feature the regular showrunner audio commentaries from David Benioff and D.B. Weiss, as well as a new animated history of the Seven Kingdoms seen above. There will be featurettes of the making of some of the season's grandest battle scenes — including that jaw-dropping fire and fury siege from "The Spoils of War — as well as some on the meticulous design of the production.
The Blu-ray will also include some exclusive features such as:
Histories and Lore- 7 new animated pieces that give the history and background of notable season 7 locations and storylines including The Dragonpit, Highgarden, Prophecies of the Known World, the Rains of Castamere and more all narrated by cast members including Nikolaj Coster-Waldau, Aidan Gillen, Iain Glen and more.
In-Episode Guides: In-feature resource that provides background information about on-screen characters and locations.
In-Episode Guides: In-feature resource that provides background information about on-screen characters and locations.
And don't worry all you impatient Thrones fans, the digital download will also have an exclusive featurette about the epic battle with the Night King beyond the Wall. It's yet to be seen if the featurette explains the confusing timeline of the battle beyond the wall.
The digital download will be available on September 25, 2017, and the Blu-rays and DVDs will hit shelves on December 12, 2017.