Jon Hamm Cast As Boba Fett In New Star Wars Canon Story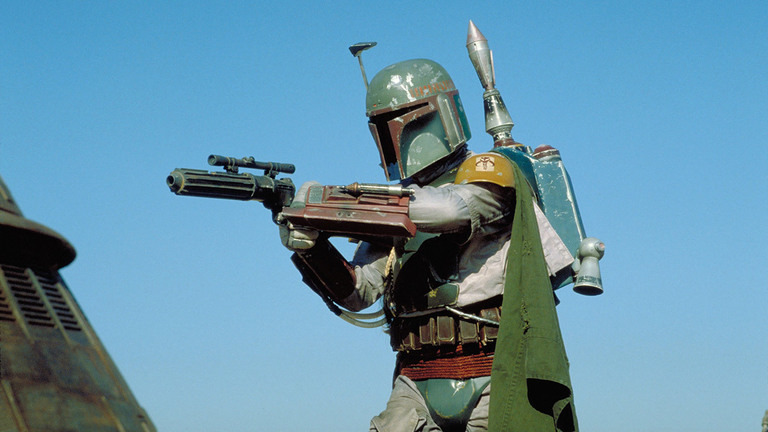 Forty is the magic number for Star Wars this year, with a special volume coming to us from a galaxy far, far away replete with 40 authors writing 40 stories for Star Wars' 40th anniversary.
The volume From a Certain Point of View, which will also be released in audiobook form, gives background stories for everyone from your average X-Wing pilot to the famed Boba Fett, the infamous mercenary from The Return of the Jedi and Empire Strikes Back (who we've only heard with voice distortion due to his helmet). In honor of such a special occasion, it's only fitting that Boba Fett gets an equally special voice actor for the audiobook: Jon Hamm.
Del Rey assembled a star-studded cast for the audiobook release of From a Certain Point of View, led by the dapper Mad Men actor, now-turned-mercenary, Hamm, according to StarWars.com.
The full cast list includes:
Producers Aaron Blank and Nick Martorelli were excited to bring popular Hollywood actors like Hamm and Neil Patrick Harris on board, who they were able to cast thanks to the surplus of short stories available. Blank said:
"In addition to multiple perspectives, short stories mean a small time commitment in the recording studio, and that enabled us to pursue some big names! We know some of these readers — like Jon Hamm (reading as Boba Fett) and Neil Patrick Harris (reading about an Imperial officer in the Death Star) — might not be available for an entire audiobook, but we were able to bring them on board for this project."
Blank and Martorelli said that From a Certain Point of View was a unique project that allowed them to do a full-cast Star Wars audio production for the first time since Ian Doescher's William Shakespeare's Star Wars audiobooks, which were originally written as plays.
In addition to stars like Hamm and Harris, the producers cast a few of the narrators because they were die-hard fans, like Marc Thompson as Yoda. Martorelli said:
Since we have over 40 authors in this collection retelling different moments from Star Wars literary history, we wanted to use the audiobook as an opportunity to work with an all-star cast of narrators. We matched our veteran Star Wars narrators with stories that suited their talents, and from there we dreamed big and reached out to people who might have been interested in celebrating this landmark 40th anniversary project.
From a Certain Point of View will be available on October 3, 2017, on hardcover, ebook, and unabridged audiobook.