Listen To The First Three Songs From Pixar's 'Coco'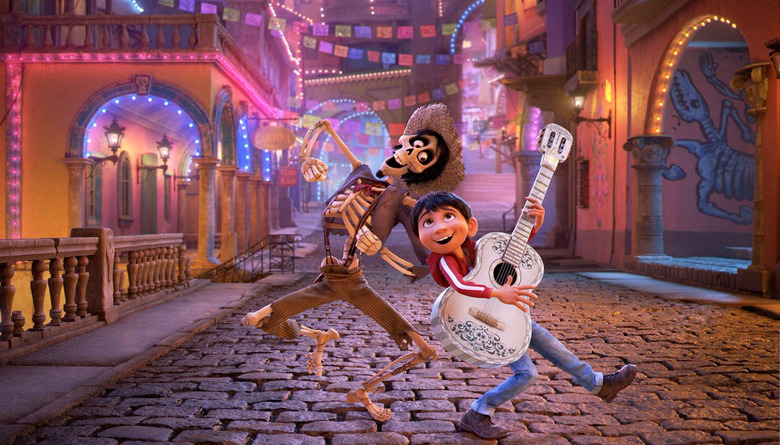 Although it's not a musical, Coco takes place in Mexico and pays homage to the country's rich musical scene. And it's a credit to the composers of Coco — and their cultural advisors — that the original songs in the Pixar film range from bolero ranchero, to son jarocho, to Huapango-inspired styles.
There's a fair share of familiar mariachi songs and other styles scattered throughout the film, but the above genres describe the first three songs from Coco that were released in snippets this week. But most importantly, one of them has Gael Garcia Bernal singing. Yes, Mozart in the Jungle is finally flexing his singing chops.
Music is as much a part of Coco's DNA as is its Mexican setting. Taking place on the Day of the Dead in the fictional small town of Santa Cecilia, Coco follows the journey of aspiring musician Miguel (Anthony Gonzalez), a 12-year-old boy who hails from a family that has banned all music. But Miguel is surrounded every day by the diegetic music that floats through the streets of Mexico, and quickly learns how to sing and play the guitar from videos of his idol, Ernesto de la Cruz (Benjamin Bratt). When Miguel gets stuck in the Land of the Dead, ragamuffin skeleton Hector (Bernal) becomes his partner in crime, as well as his singing partner.
Gonzalez and Bratt both performed their songs at D23 this summer, but the below clips will give you a first taste of Bernal's singing voice, which he even sprinkled some vibrato in. He told Entertainment Weekly, which premiered the clips:
"I couldn't do that otherwise! But singing through the character lets us non-professional singers be able to actually do it in front of people."
Below are the snippets from the three songs.
The first song "Remember Me" (which has appeared in almost its entirety in the trailers and previews of Coco), is a touching "duet across generations," as described by co-director and sometimes lyricist Adrian Molina at the Pixar set visit I attended earlier this summer. "Remember Me" is a bolero ranch-style song, in homage to Mexican Corrido style folk ballad of the '20s and '30s, written by Kristen Anderson-Lopez and Robert Lopez of Frozen fame.
The next song, "Un Poco Loco," is a bubbly son jarocho-style song that "pulls in indigenous, African, and Spanish musical elements," according to EW. The song, written by Germaine Franco — who also worked with composer Michael Giacchino as the orchestrator for Coco alongside cultural consultant Camilo Lara — and Molina, is the result of a spontaneous performance by Miguel and Hector, who must perform at a Land of the Dead talent show to gain access to Ernesto de la Cruz.
Franco and Molina return as the writing pair for the third song, "The World Es Mi Familia," a Huapango-inspired track that Miguel sings to capture the attention of his singing idol.
Coco is set to hit theaters on November 22, 2017.