Aw, Nerds! '30 Rock' And 'How I Met Your Mother' Are Leaving Netflix This Fall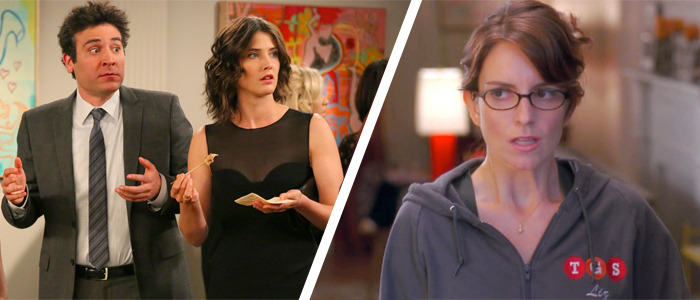 The more time goes by and the more Netflix gets invested in their own original programming, the more titles that have been part of the streaming services library for years will be disappearing.
Earlier this year, Futurama fans were annoyed to learn that nearly the entire series was leaving the streaming service along with several other staple FOX programs like The X-Files, American Dad!, House M.D. and Firefly. Now fans of NBC's comedy series 30 Rock and the CBS sitcom How I Met Your Mother can join in their misery as both shows will be removed from Netflix this fall.
Vulture has word on both 30 Rock and How I Met Your Mother leaving Netflix this fall. Though no specific dates have been provided for either show, they're expected to leave the streaming service sometime within the next two months. These shows have been staples and favorites of the Netflix library for years, so why are they suddenly going away?
When it comes to How I Met Your Mother, the show is produced by 20th Century Fox Television, which just so happens to have signed a huge deal with Hulu back in July to give the competing streaming service access to over 3,000 episodes of the studio's various television programs. That includes every single season of How I Met Your Mother. While Netflix could have negotiated to keep the rights to How I Met Your Mother and provided the show to their subscribers along with Hulu, they're not all that interested in providing content that isn't exclusively available on Netflix.
Meanwhile, 30 Rock has been part of the Netflix library since 2011. It's become a staple for many subscribers who love to rewatch the show over and over again. But apparently that wasn't good enough for Netflix. In a statement provided to Vulture, the streaming service confirmed that 30 Rock would be leaving in October, and they've seemingly indicated that they're not particularly interested in attempting to renewing their licensing agreement to keep it around. Netflix said:
"The license for a TV series or movie is for a set period of time, which means every title eventually comes up for renewal. At that point we take a variety of factors into account to determine if we will renew the title. As we expand our content portfolio, our goal is to continue offering great movies and TV series for our members, while also providing content that is available exclusively on Netflix."
For their part, NBC hasn't been making any strides to get 30 Rock or any of their other shows (the network's drama series Friday Night Lights will be leaving this fall as well) up on other streaming services like Hulu or Amazon Prime. But they're also not trying to convince Netflix to keep their shows in their streaming library either.
At the end of the day, this should come as no surprise. After all, at the end of 2015, Netflix revealed they would be doubling their output of original programming in 2016. Then last year, Netflix's CFO David Wells said the company was in the middle of a "multiyear transition and evolution toward more of our own content" with hopes of having 50% of their library containing original content in the next few years.
If Netflix keeps dropping shows like 30 Rock and How I Met Your Mother (and now The Office and 30 Rock) while making new ones like Ozark, Wet Hot American Summer: 10 Years Later, Atypical, The Defenders and Mindhunter, then they should have no problem hitting that mark. But let that serve as a lesson to viewers out there that it might behoove you to own your favorite TV shows on digital download or even Blu-ray/DVD, because you never know when they may no longer be available on your preferred streaming service.
As soon as we get an exact date of when 30 Rock and How I Met Your Mother are leaving Netflix, we'll let you know.
***
UPDATE: A previous update to this story indicated that The Office and Parks and Recreation were leaving Netflix as well, but Netflix has confirmed that this isn't true:
This is false. Neither are leaving any time soon.

— Netflix (@netflix) September 16, 2017
We're not sure how wires got crossed with the wrong information, and we're sorry for any panic or concern this may have cause for fans of both The Office and Parks and Recreation. Continue to keep binge watching both shows!