Jim Carrey Reunites With 'Eternal Sunshine Of The Spotless Mind' Director Michel Gondry For Showtime Series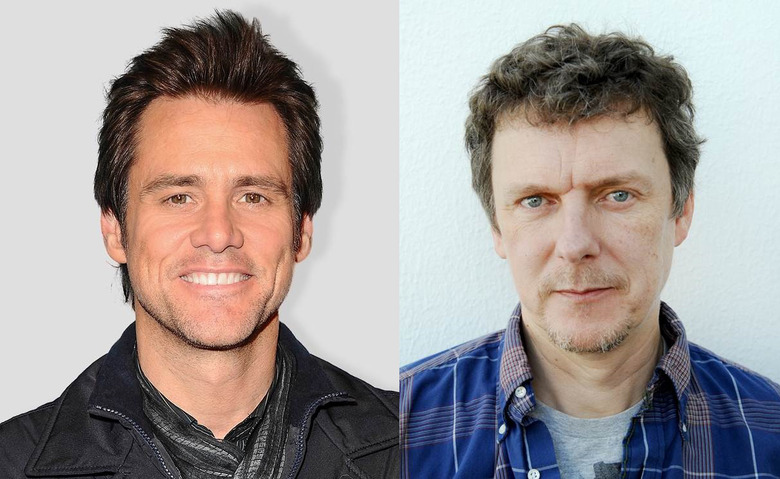 Jim Carrey and Michel Gondry are meeting again, though not in Montauk.
The Eternal Sunshine of the Spotless Mind star and director are teaming up for a Showtime series titled Kidding, a half-hour comedy series about a former children's TV personality who starts to slowly lose his sanity in the face of a disintegrating family life. It's no trippy backwards love story, but it sounds like the two will be tapping into the existential dreamscape that made Eternal Sunshine such a revelation. Now, if only they could get Kate Winslet on board.
Jim Carrey's will star in Kidding with Gondry directing the series, which has been picked up for a 10-episode order by Showtime. Carrey will executive produce Kidding alongside Gondry, Jason Bateman, Jim Garavente, Raffi Adlan, and Michael Aguilar. The series was created by Weeds producer Dave Holstein, who will serve as showrunner.
Showtime President and CEO David Nevins said in a statement accompanying the announcement:
"No one inhabits a character like Jim Carrey, and this role – which is like watching Humpty Dumpty after the fall – is going to leave television audiences wondering how they went so long without him. With his Eternal Sunshine partner Michel Gondry on board to direct, we are on our way to a magnetic, volcanic and emotional viewing experience."
This is an exciting reunion for Carrey and Gondry, as the brilliant and imaginative Eternal Sunshine of the Spotless Mind helped launch Carrey into the prestigious acting sphere, aided by his Golden Globe-winning turn in The Truman Show. Gondry sincerely understood how to harness Carrey's offbeat humor into an emotionally resonant performance, and it resulted in one of the most romantic films of the decade. Eternal Sunshine of the Spotless Mind is easily my favorite film of all time, so just the prospect of their reunion is enough to get me excited for Kidding, which seems like it will make use of Gondry's uniquely idiosyncratic directing style.
Here's the official synopsis for Kidding:
In KIDDING, Carrey plays Jeff, aka Mr. Pickles, an icon of children's television, a beacon of kindness and wisdom to America's impressionable young minds and the parents who grew up with him – who also anchors a multimillion dollar branding empire. But when this beloved personality's family – wife, two sons, sister and father – begins to implode, Jeff finds no fairy tale or fable or puppet will guide him through this crisis, which advances faster than his means to cope. The result: a kind man in a cruel world faces a slow leak of sanity as hilarious as it is heartbreaking.
No official release date has been announced for Kidding.