Spike Jonze Created A Live Dance Film With Mia Wasikowska And Lakeith Stanfield On The Set Of 'The Tonight Show'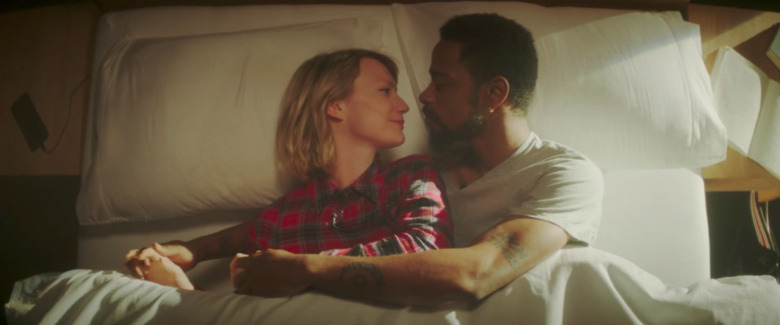 Spike Jonze is a multi-talented writer, director, and now, a dance show producer.
The award-winning director behind such fare as Her and Being John Malkovich tried his hand at creating a "live dance film" for the first time, on the set of The Tonight Show With Jimmy Fallon. And the result is a short film as abstract and eccentric as you'd expect, grounded by charming performances from Mia Wasikowska and Lakeith Stanfield
The Tonight Show's studio temporarily transformed into Jonze's stage on Wednesday night, with a fuzzily backlit Wasikowska and Stanfield flitting around a makeshift standing bed. The two performed the routine they originated for the theatrical dance piece Changers: A Dance Story, which Jonze wrote and directed for experimental theater club La MaMa's Opening Ceremony.
Opening Ceremony is a fashion exhibition in New York City founded by Humberto Leon and Carol Lim. They are friends with Jonze and jumped at the chance to write a wordless performative story.
While Wasikowka and Stanfield are clearly not professional dancers, they carry off just enough charisma and exuberance to pull off the, frankly, odd performance. Beginning with the two of them waking up in bed and kissing good morning, the camera pulls back to reveal them standing next to a vertical bed. The two then flirtily dance around the studio, followed by a single spotlight, as the camera revolves around them. They close things off with a hug and a kiss, before their faces drop to betray a nervous uncertainty as they walk off stage.
Conceived as a performance that "explores the evolution of relationships and will be told through movement and dance," the theatrical show ends its limited run at the La MaMa on Friday. However, Jonze said in the interview with Fallon that he plans to capture the performance on camera, with this live dance film being the first part of the 40-minute narrative. He told Fallon:
"We've been filming a lot of it. We're going to film a bunch of it on the streets tomorrow, we're going to go down to Tompkins Square Park and do a bunch of pieces and cut it together. We're going to release it at some point online."
See Jonze, Stanfield, and Wasikowska talk about the project below.
One fun tidbit is that the dance performance may have been somewhat inspired by a spontaneous hip swivel that Stanfield made when he and the cast of Atlanta accepted their Golden Globe last year. "[I] was feeling real zen," Stanfield (who is steadily becoming one of my favorite eccentric actors) says of his first conversation with Jonze on the project.
Proceeds from the ticket sales to Changers go to Greater Houston Community's Hurricane Harvey Relief Fund, Fallon announced.