Darren Aronofsky Says The Joker Origin Movie Sounds Similar To His Batman Pitch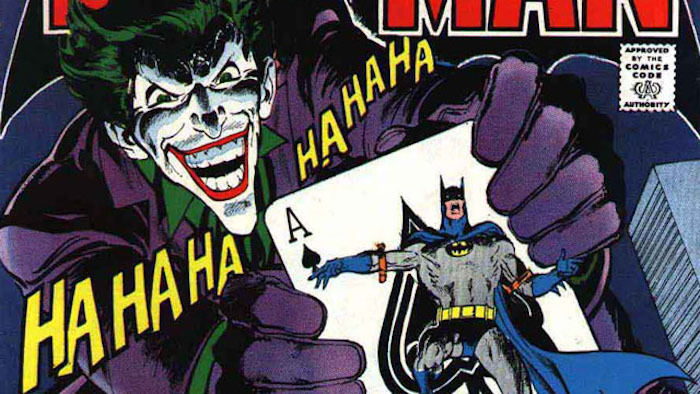 Before Christopher Nolan gave Batman a gritty makeover and Zack Snyder doubled down on the grimdark take, there was Darren Aronofsky and his shelved Batman: Year One project.
The project, which drew inspiration from Frank Miller's similarly-titled comic book, envisioned a Travis Bickle-like Bruce Wayne who grew up an orphan in the crime-ridden streets of Gotham, donning a ski mask, cape, and brass knuckles to fight criminals. The project languished in development hell for years before Warner Bros. pulled the plug, but it seems like traces of the idea may still be floating around. Aronofsky, who is currently doing the press rounds for his newest bonkers film mother!, says that he sees more than a few similarities between the description of Todd Phillips' upcoming Joker origin movie and Aronofsky's own Batman pitch.
"I told them I'd cast Clint Eastwood as the Dark Knight, and shoot it in Tokyo, doubling for Gotham City [...] That got their attention" Aronofsky said of his 1999 pitch to Warner Bros, as recounted in the great book Tales From Development Hell (you can, and should, read the entire tale of this failed production).
While his Batman movie project wasn't exactly that, it did follow a grittier and far more different Batman than had been seen on the big screen before in the more Gothic and campy films from Tim Burton and Joel Schumacher. Bruce's origin story was changed to that of a homeless orphan taken in by 'Big Al', who runs an auto repair shop with his son, 'Little Al.' Young Bruce would grow up witnessing the back alley dealings of pimps, prostitutes, and corrupt cops, while James Gordon was like the "Serpico" to Bruce's Travis Bickle.
It's fitting then that Martin Scorsese, the acclaimed director of the classic Taxi Driver, would become involved with a Warner Bros.' Joker project that has some similar ideas for Batman's arch nemesis.
Aronofsky noticed these similarities, telling First Showing:
"You know what, I think it's finally... I think we were basically – whatever it is – 15 years too early. Because I hear the way they're talking about the Joker movie and that's exactly – that was my pitch. I was like: we're going to shoot in East Detroit and East New York. We're not building Gotham. The Batmobile – I wanted to be a Lincoln Continental with two bus engines in it."
To be fair, story ideas make their way around Hollywood and often end up sneaking into other films, as evidenced by some of Arrnofsky's Batman pitch making its way to Snyder's Batman v Superman: Dawn of Justice. Aronofsky said:
"Some of my ideas got out there through other films. Like the ring with "BW", Bruce Wayne's ring making the scar was our idea and I think that was in Zack's or something. Which is fine, you write these ideas and they get out. We were all about reinventing it and trying to make it more Taxi Driver visceral. That was the whole pitch. But the toy people were like, "Oh it can't be a Lincoln Continental, you have to make a Batmobile."
We'll probably never get that Clint Eastwood-starring Batman origin movie — though I still think Eastwood would make a great older Bruce in a Batman Beyond big screen adaptation if Warner Bros. goes forward with more DC anthology films — but it seems we've already gotten a taste of Aronofsky's Batman pitch. Ironically, Snyder's nihilistic Batman seems almost watered down compared to Aronofsky's pitch, so it seems to me like good fortune that Aronofsky moved far away from the superhero sphere. But there's not denying that this remains one of the strangest unmade movies of the past few decades.