'The Shape Of Water' Red Band Trailer: An Up Close And Personal Look At The Creature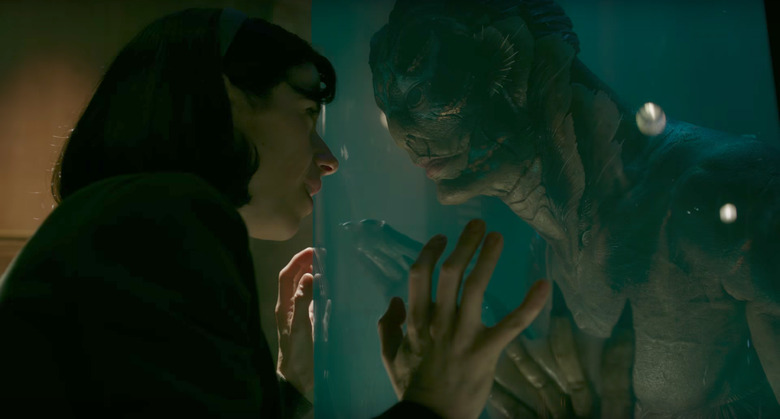 Love stories never seemed so magical until Guillermo del Toro paired together a mute lab worker with an imprisoned fish man.
The master filmmaker's poetic, lush The Shape of Water made waves at the Toronto International Film Festival and Venice Film Festival, and its enchanting first trailer piqued many fans' interest in Del Toro's Cold War-set story. But Doug Jones' fish creature was mostly shrouded in mystery next to Sally Hawkins' lab worker Elisa. But the new red band trailer finally sheds light on the gilled creature who is capturing so many hearts.
The red band trailer reveals more footage of The Shape of Water than we've ever seen before, following the melancholic Elisa as she discovers and falls in love with the classified experiment kept imprisoned in the laboratory where she works. In an act of crazy, stupid love, she breaks him out with the help of her co-worker Zelda (Octavia Spencer) and her next-door neighbor Giles (Richard Jenkins). Michael Shannon's villainous government agent rages at the loss of The Asset and interrogates Elisa, but is only met with bullish defiance.
Not only do we see more of Jones' fish creature, but we get a peek at Elisa's brazen personality which had been overlooked because of her disability and others' prejudices. We also get a glimpse at the lovely dance scene between Elisa and Giles, which is one of the standout scenes highlighted by reviewers, including /Film's own Chris Evangelista, who said in his TIFF review, "Del Toro creates one gorgeous moment after the next, including a show-stopping scene that turns into something out of a classic musical. It's the type of thing only del Toro could create."
He called The Shape of Water "one of the best movies of 2017, a stunning, romantic fable that will have you shedding tears of happiness."
Here's Fox Searchlight's official synopsis for The Shape of Water:
From master story teller, Guillermo del Toro, comes THE SHAPE OF WATER – an other-worldly fairy tale, set against the backdrop of Cold War era America circa 1962. In the hidden high-security government laboratory where she works, lonely Elisa (Sally Hawkins) is trapped in a life of isolation. Elisa's life is changed forever when she and co-worker Zelda (Octavia Spencer) discover a secret classified experiment. Rounding out the cast are Michael Shannon, Richard Jenkins, Michael Stuhlbarg and Doug Jones.
The Shape of Water is set to hit theaters on December 8, 2017.