'Red Sparrow' Trailer: Jennifer Lawrence Is A Deadly Russian Spy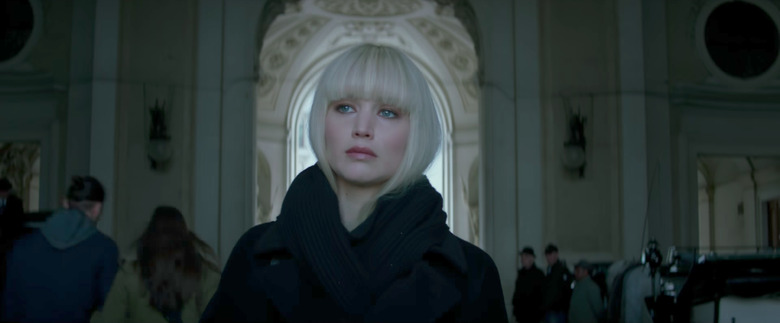 Silent and stoic, Jennifer Lawrence breezes her way through the Red Sparrow trailer, a story following a prima ballerina who is trained to become one of Russia's deadliest intelligence officers.
Based on the book by Jason Matthews, the big screen adaptation of Red Sparrow helmed by Francis Lawrence looks incredibly brutal and cold, allowing Lawrence, who often plays somewhat overwrought characters, to stretch her acting chops in the type of story we've never seen her tackle before.
Lawrence doesn't say a single word in the trailer as we follow her passive face, which only turns to agony when she undergoes the brutal training regime that turns her into the deadly "Red Sparrow." Red Sparrow follows Lawrence's agent, Dominika Egorova, as she seduces and kills her targets, with flashbacks to her life as a prima ballerina and as a trainee at the Sparrow School. We also see a brief encounter between Dominika and a CIA agent played by Joel Edgerton.
"Young officers trained to seduce and manipulate," a voice narrates over the trailer. "To use their bodies. To use everything. Call them Sparrows. That's what she is."
The trailer has shades of Atomic Blonde and Black Widow's origin story from the Avengers movies, which I'm not complaining about. It seems like Hollywood is hitting the ground running on female-led action films and thrillers after the critical and commercial success of films like Wonder Woman and Atomic Blonde this summer. Red Sparrow is hopefully the start of an ongoing surge in these types of films.
Here's the official synopsis below:
Dominika Egorova is many things. A devoted daughter determined to protect her mother at all costs. A prima ballerina whose ferocity has pushed her body and mind to the absolute limit. A master of seductive and manipulative combat. When she suffers a career-ending injury, Dominika and her mother are facing a bleak and uncertain future. That is why she finds herself manipulated into becoming the newest recruit for Sparrow School, a secret intelligence service that trains exceptional young people like her to use their bodies and minds as weapons. After enduring the perverse and sadistic training process, she emerges as the most dangerous Sparrow the program has ever produced. Dominika must now reconcile the person she was with the power she now commands, with her own life and everyone she cares about at risk, including an American CIA agent who tries to convince her he is the only person she can trust.
Red Sparrow also stars Matthias Schoenaerts, Charlotte Rampling, Mary-Louise Parker, and Jeremy Irons.
Red Sparrow is set to hit theaters on March 2, 2018.