Star Wars Bits: A New 'The Last Jedi' Book, Millennium Falcon Changes, And 'Episode 9' Rumors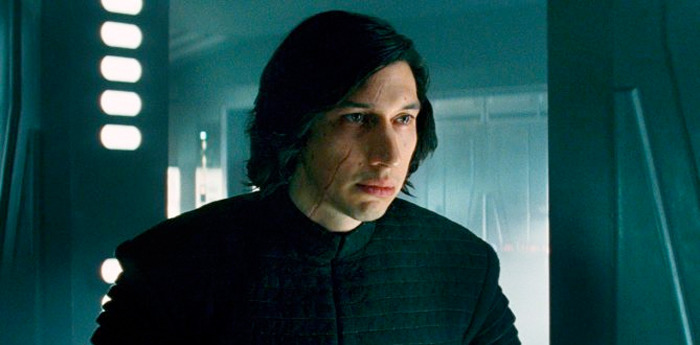 In this edition of Star Wars Bits:
A new Star Wars: The Last Jedi book...and cardboard standees.
The Millennium Falcon is undergoing a major change for the Han Solo movie.
Take a class on Star Wars "Ring" storytelling structure.
Mark Hamill and Harrison Ford chat with GQ.
Let's kick it off with this week's episode of The Star Wars Show, which is legitimately hilarious. The new book Canto Bight was announced, but more important was the search for more information about Anthony's cute little boi and Dana Snyder's phenomenal reading of one of my favorite lines in all of Star Wars history. Next time make him do the "I killed them all" Anakin line! Or just dub over any Vader scene! Please?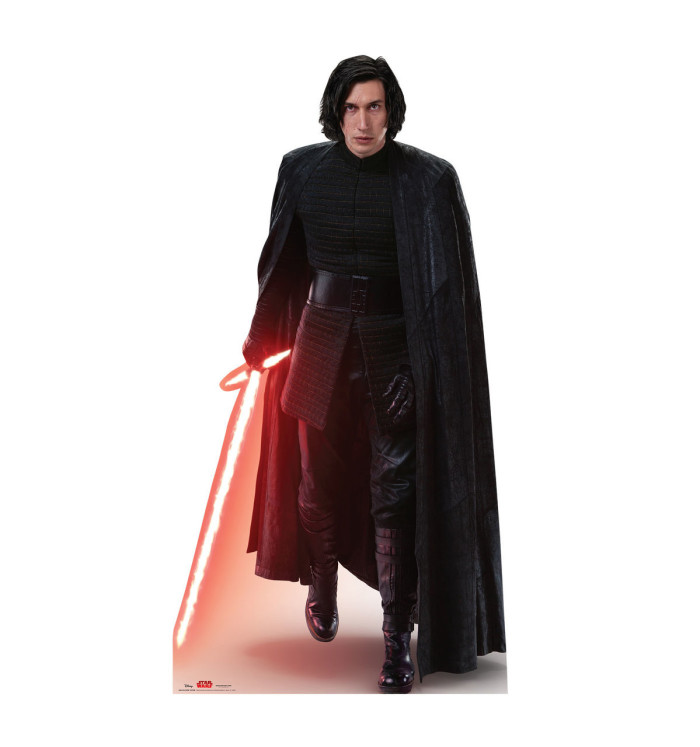 I honestly don't think I knew that cardboard cutouts were still a readily available thing, but here we are. ComingSoon has a big gallery of cardboard cutouts and Fatheads character graphics from The Last Jedi. I'd want the General Leia one, if it didn't make me feel like I was always letting her down somehow. Maybe a Praetorian Guard for the fridge to keep me on my diet?
Working on Saturday here in the Galaxy pic.twitter.com/eIx9SBjycA

— Ron Howard (@RealRonHoward) September 9, 2017
If you didn't watch the full Star Wars Show episode above, then you may have missed this, the latest in Ron Howard's quest to make us feel like we know a lot about the Han Solo movie that we actually know virtually nothing about! We can confirm, there will be a drivable vehicle in the movie. Yes, that joke is pretty close to what Andi and Anthony said, and no, I'm not going to apologize.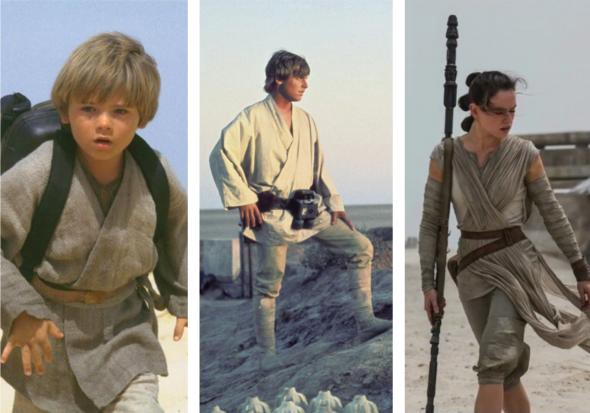 The folks at Star Wars Underworld have an excellent piece showing the cyclical nature of Star Wars and its use of "Rings" storytelling. It's something that a lot of people seem to have a fundamental lack of understanding on when it comes to the franchise; when you see similarities in the stories, especially in parallel chapters that's on purpose and it's a specific, well-known story device! Here's a sample:
"Why are all three movies so similar? Because the similarity shows how history repeats itself, with small variations in each instance that lead to widely different outcomes. The parallels highlight the differences. Anakin and Luke could have both ended on the Light Side of the Force, but small differences led to very different outcomes—Anakin ended on the Dark Side because of his mother's death and the fear that his love, Padmé, would die.
These repeating patterns are called Rings. There are rings everywhere in Star Wars: for the protagonists, mentors, secondary players, themes, politics... George Lucas was very purposeful in these Rings. For him, they were like poetry. Every movie rhymes with the next one."
Amen.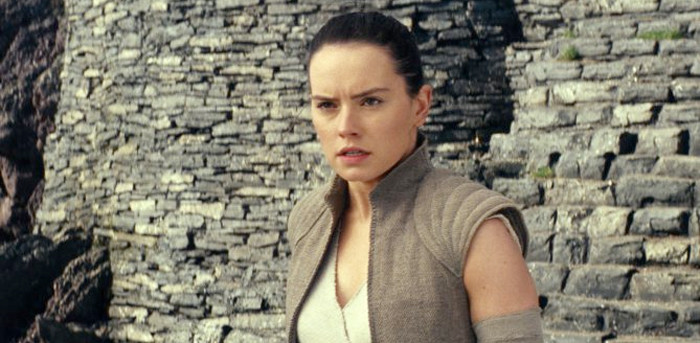 Why is Rey so concerned? Because Rey has no music to train to. Well don't fret, Rey, Star Wars: The Last Jedi's soundtrack will be released on December 15, 2017, the same day the movie is in theaters. Just please, please don't look at the song title names before you go to the movie. The song titles tend to be quite spoilery.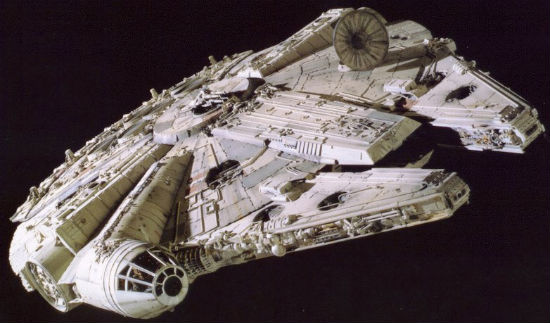 What is the Millennium Falcon going to look like in Han Solo: A Star Wars Story (still not final title)? According to a fresh rumor from MakingStarWars, it will be quite different than the look we're used to. The Falcon will have blue detailing over a white base coat, they report, and the front 'fork' design will finally be explained – it's an open cargo bay, which we'll see actually get used. Wait, the Falcon's a cargo ship? (He says, kidding, please don't attack in the comments).
We really could just start filling this column with tweets from Heath and Pasquale, couldn't we? This outstanding mashup of Studio Ghibli's My Neighbor Totoro with The Last Jedi is just so much fun, and so adorable. Look at that giant Porg! Look at Rey all happy and carefree in the rain! This is beautiful, and it needs to be a thing.
Grand Admiral Thrawn is the latest playable character in Star Wars: Galaxy of Heroes, which lets you collect your favorite characters from all over the timelines and slam them together in slightly strategic group battles. Fielding an all-Rebels character team with Thrawn in the back guiding things along may sound intriguing, but you do have to keep the good guys and bad guys separate. Dang.
After helping to design the #episodeviii branding system over a year ago with @dianesaurusrex , it's been a trip seeing some of the #starwars products being released on #ForceFridayII . After using a black and red statement for #theforceawakens , we needed something that would stand apart from that system while still feeling like a 'relative' of it. So we went the complete opposite with the main base color – while still keeping a hint of the red, which is a very iconic First Order statement. Now, just like every Star Wars sure-fan out there, I can't wait to see them in person in-store. There goes my paycheck...again!! #thelastjedi
You've probably seen this toy box top a few times, especially if you went out on Force Friday. Designer Eric Tan revealed he was behind the look, with the stark white and "First Order red" on it. He's also designed a Praetorian Guard shirt that I need to have. While it's not Star Wars, he has  some really cool classic Disney Animation posters are on his instagram, so check those out.
JediNews has world that David Prowse, the original man in the suit of Darth Vader for the Original Trilogy, is retiring from public appearances at the end of the year. The report cites declining health for the retired actor and he will be making no further convention bookings after seeing out 2017.
Do you want to know a little more about Porgs? Well, Rian Johnson is here for you, with some Porg Facts ® about their coloring, size, and even their temperament! He left out that they're phenomenal and adorable and we all want five of them.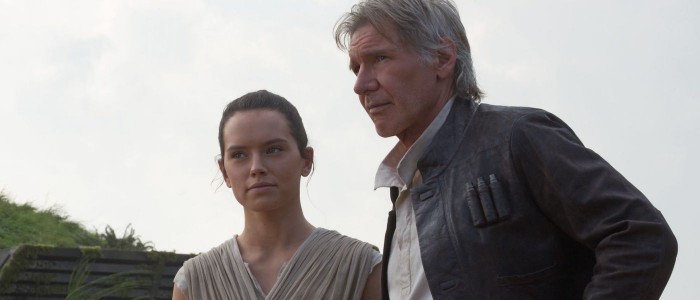 While it wasn't a condition of his return to the role of Han Solo, the fact that the character would be saying his final farewell in The Force Awakens did sway Harrison Ford initially.
"I think it was mentioned, even in the first call, that he would not survive. That's something I'd been arguing for for some period of time," he told GQ. "It was, you know, an interesting development of the character."
Could he somehow, someway come back? Probably not. "At this point I'd rather do something else. Just because it's more interesting to do something new." And we wish him all the best, but we're also glad he came back. And that he's doing another Blade Runner and another Indiana Jones.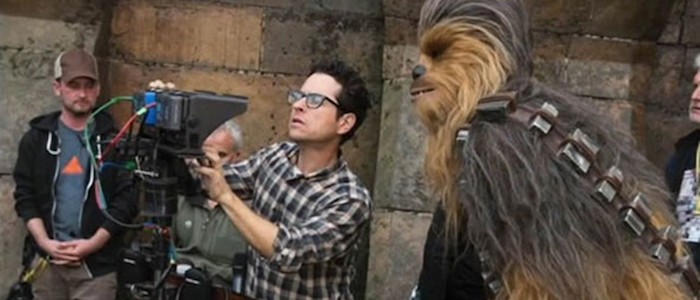 According to Variety, JJ Abrams will get back behind the camera for Star Wars Episode IX in June 2018. It's interesting – it gives the cast more time off after their press tour, but also gives Abrams a little less time to do his thing. That will also mean no Star Wars film in principal photography for a good 8 months and change when Han Solo wraps in the coming weeks. Also interesting: Indiana Jones 5 will reportedly go into production around the same time (late Spring, early Summer 2018), for a 2019 release, meaning Lucasfilm could have some serious overlap in productions. Episode IX has been pushed to a December 20, 2019 release date.
Here's a closer look at the #CantoBight cover, just released via the Star Wars Show! The book feat four original novellas is out on Dec 5th! pic.twitter.com/R587p1CMad

— Star Wars Books (@DelReyStarWars) September 13, 2017
Here's a closer look at that Canto Bight cover, and the four writers contributing. That's a very exciting group of writers there, as Ahmed's Black Bolt comic for Marvel has been fantastic, Rae Carson should bring in a nice YA following, Mira Grant's talent for horror will hopefully be on display, and JJ Miller is one of the best (and most prolific) Star Wars novel and comic writers ever. Sign me up!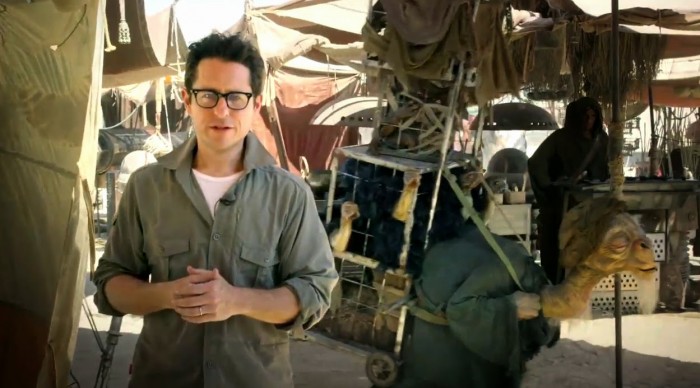 While it wasn't as big of a headline grabber as the director's chair, JJ Abrams was also hired to write Star Wars: Episode IX. Of course, that may sound a little strange to fans who have been following the film's development over the years. As Screenrant points out, there have been several versions of a script already. There was Colin Trevorrow and Derek Connolly's first version, though reports differ on whether that script ever actually saw a coherent draft. Having worked on it already for a year and a half, the sudden death of Carrie Fisher and the decision to exclude the character of Leia from Episode IX would have caused a significant rewrite – one Trevorrow said was done and turned in April 2017. Then three months later, Jack Thorne was hired to do a rewrite, thought it was not reported as a page-one rewrite or a total scrapping of the original. Now, Abrams, along with writer Chris Terrio, is back for another go. Will he keep what's come before? Start fresh? Use it as a general outline? We'll see once things get settled down.
Finally, hey, Harrison Ford isn't the only one who gets a great GQ feature! Mark Hamill's video interview features what almost looks like an awesome space cape, and how much he loves meeting fans; but also that they're crazy nerds sometimes, which yeah, we get it.