Tyrese Begs Dwayne Johnson To Not Make That 'Fast & Furious' Spin-Off Before 'Fast 9'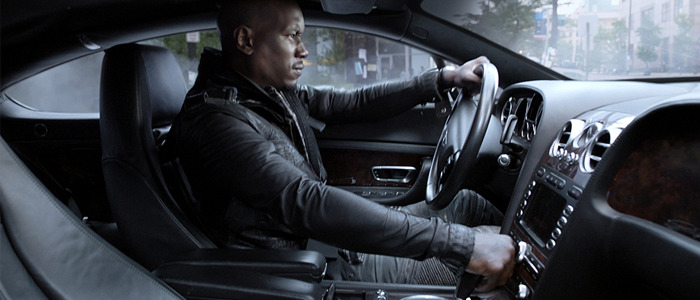 Is more trouble brewing behind the scenes in the Fast and Furious #family? In a now-deleted post on Instagram, Tyrese Gibson, who first joined the racing-turned-heist-movie saga in 2003's 2 Fast 2 Furious, essentially begged Dwayne "The Rock" Johnson not to make a Fast and Furious spin-off until Fast 9 is completed. His language is particularly strange (even for Tyrese), so this deserves a much closer look.
Before you read his message, you should know that Tyrese is the type of actor my friend Vince Mancini at Filmdrunk calls an "existential buffoon" – a guy who fancies himself a "prophet of the profound" and can often be seen spouting faux-deep, quasi-profound language. Take a glance through his Instagram posts and you'll instantly understand what I mean. So I was sort of shocked to discover that this particular entry pleading with Johnson was comparatively light on those types of sentiments, instead seeming to appeal directly to Johnson's heart (through flattery!) in an effort to keep himself employed.
Are you ready? Here's what he said (via The Playlist):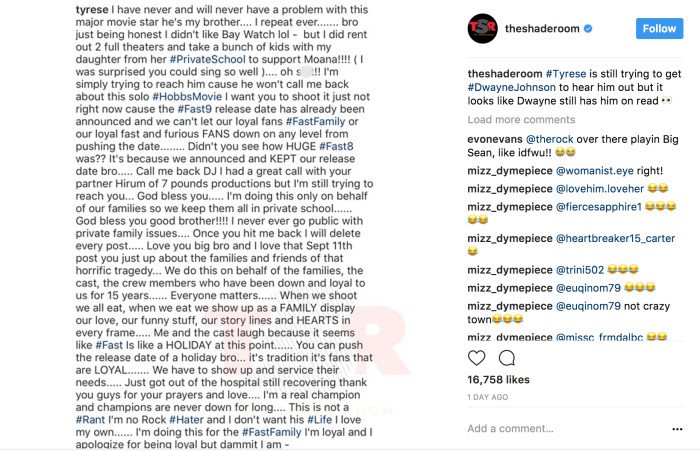 You get the picture: Tyrese doesn't want The Rock to make a different Fast movie that jumps ahead of the planned sequel on the production schedule. But let's really dig into this and see if we can read anything else between the lines.
Here's what we know about the Fast franchise as it stands today. Johnson and producer/star Vin Diesel reportedly butted heads on the set of The Fate of the Furious, which went on to make $1.2 billion at the worldwide box office, but they've apparently since squashed their beef – at least to the point in which Johnson is supposed to come back into the fold for the final two entries. The series is supposed to end with the tenth installment, and the release dates for Fast 9 and Fast 10 have indeed already been unveiled by the studio: they're slated for April 19, 2019 and April 2, 2021, respectively. But Johnson and Jason Statham had such good chemistry on Fate that a spin-off featuring those two characters was being considered, and a post-credits scene for Fate would have directly set that up had it not been rejected by Diesel, who was said to be furious about it.
Initially, I was wondering if that Luke Hobbs/Deckard Shaw spin-off was the one Tyrese mentioned in his Instagram post, but then I remembered there was talk a few years ago about Johnson's special agent character actually getting a legitimate solo film all his own, and Tyrese specifically calls this a "solo #HobbsMovie" with no mention of Statham or that character at all. What is Universal cooking up behind closed doors? Does Tyrese know something concrete that we don't, or is he just operating on rumors?
Either way, I'll be fascinated to see how the studio chooses to move forward here. A case could definitely be made that the saga films need a bit of time to breathe so writer/producer Chris Morgan can have more time to hone the next script, and the chemistry between Johnson and Statham was definitely one of the highlights of Fate, so it would make sense if they really are looking to replace Fast 9 (which may include the return of Han!) with a spin-off. But in the meantime, I'll be getting endless joy from the very "Tyrese" manner in which Tyrese composed this post, including (but not limited to):
Adding a hashtag to #PrivateSchool
Attributing all of Fate's financial success to how it kept its initial release date
Referring to Johnson's 7 Bucks Productions as "7 pounds productions"
Praising Johnson's singing voice and September 11th memorial Instagram post in the space of a few sentences
Referring to himself as "a real champion"
I mean, there's just so much there, you guys. As of now, Fast 9 will be the next Fast movie to hit theaters on April 19, 2019.