'Tragedy Girls' Trailer: When Social Media Obsession (Literally) Kills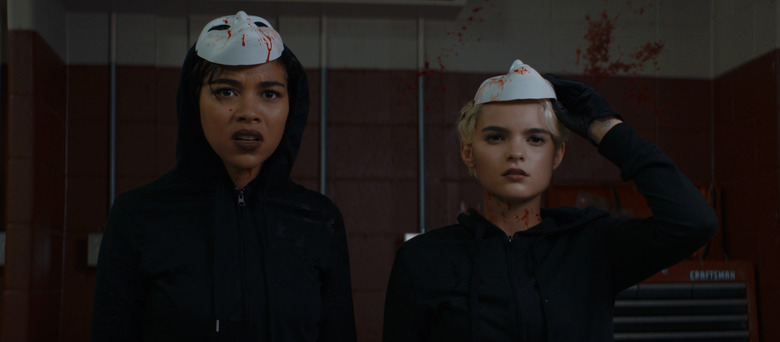 Heathers may be coming back for the Instagram generation on TV Land, but it could likely be Tragedy Girls that captures the satirical cynical heart of the '80s black comedy.
Following the trend of social media-lambasting films, Tragedy Girls is about two best friends who launch a macabre blog documenting the victims of a serial killer. But fame is killer, and the two girls unlock not just their social media fame, but their own inner sociopaths.
Social media nobodies Sadie (Brianna Hildebrand of Deadpool fame) and McKayla (Alexandra Shipp of X-Men: Apocalypse, completing the superhero reunion) are desperate to gain a social media following. After getting rejected by an Insta celebrity played by a wild Josh Hutcherson, they turn around and kill him, pinning the blame on a local serial killer and seeing their fame skyrocket. It's like murderous black comedy of Heathers met the biting social media satire of Ingrid Meets West, with the rah rah girl power of Sweet Vicious — though without any of the righteous morals of the latter.
But can this be a Heathers for a new generation? Probably more so than the TV show, which looks like a tepid reimagining of the iconic '80s teen movie. Though the trailer feels more glib and silly than not, it taps into the simmering, sardonic rage of teendom that Heathers so excellently captured.
Here's the official synopsis for Tragedy Girls:
Best friends Sadie and McKayla are on a mission to boost their social media fandom as amateur crime reporters hot on the trail of a deranged local serial killer. After they manage to capture the killer and secretly hold him hostage, they realize the best way to up get scoops on future victims would be to, you know, murder people themselves. As the @TragedyGirls become an overnight sensation and panic grips their small town, can their friendship survive the strain of national stardom? Will they get caught? Will their accounts get verified?
Tragedy Girls is directed by Tyler MacIntyre and produced by Craig Robinson, who also appears in the film. The cast is rounded out by Kevin Durand, Jack Quaid, Timothy V. Murphy, Nicky Whelan, Austin Abrams, Kerry Rhodes, and Mary Carmen Lopez.Tragedy Girls is set to hit theaters October 20, 2017.