Stan Lee Has Already Filmed Five More Marvel Movie Cameos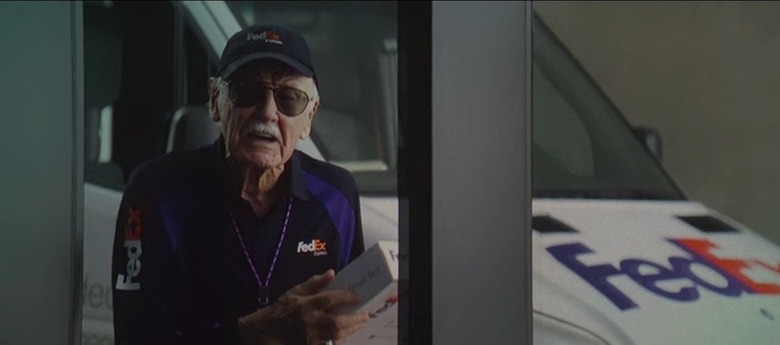 The Marvel Cinematic Universe gets bigger, but Stan Lee stays the same, reliably making cameo after cameo appearance in each film adaptation of his comic book creations.
And he has not slowed down even as his age reaches closer to that centennial mark. The 94-year-old may be pushing 100 soon, but not before he gets at least five more Marvel movie cameos out of the way.
Fans have started to see less of Lee around the convention circuit recently, but they will be seeing plenty of him on the big screen for at least the next few years. During an appearance at Wizard World Nashville 2017, Lee's personal manager revealed that the Marvel legend has already filmed cameos for five upcoming Marvel films, up to and including 2019's Avengers 4 (via ComicBook.com):
"What we can say about Avengers: Infinity War is that he filmed both parts, one and two. We did Ant-Man, we did Black Panther. We did Thor too."
Chris Hemsworth has already lauded Lee's Thor: Ragnarok cameo as his "best one yet," but this is the first confirmation we're getting of Lee's cameos in Avengers: Infinity War, Avengers 4, Ant-Man and the Wasp, and Black Panther. Not mentioned are 2019's Captain Marvel and the 2019 Spider-Man: Homecoming sequel, though neither of those are yet in production.
Largely thanks to Hemsworth's hyperbolic praise, we have to wonder how the next five cameos rank among all of Lee's MCU appearances. I'm not sure yet, but take a look at our Stan Lee cameos ranking anyway.
However, as long as Lee is able and enthusiastic, it's a guarantee that we'll see more Stan Lee cameos. While Marvel television shows haven't had the pleasure of an in-person cameo from Lee — although the Defenders got a nice featurette — Lee has become such a prominent presence in the MCU that a whole fan theory has emerged indicating that Lee's cameos all depict one in-universe character. His Guardians of the Galaxy Vol. 2 role all but confirmed that Lee is a single omniscient character, who appears during world-altering events on behalf of the Watchers. Marvel Studios head Kevin Feige legitimately confirmed this theory:
Stan Lee clearly exists, you know, above and apart from the reality of all the films. So the notion that he could be sitting there on a cosmic pit stop during the jump gate sequence in Guardians was something very fun – James had that idea and we shot that cameo and loved it so much, you know, you see it a couple of times in the movie. It wasn't in for a long time and we put it back in towards the end of the process where he references that time he was a Federal Express agent – we thought it would be fun to put that in there because that really says, so wait a minute, he's this same character who's popped up in all these films.
As a creator and co-creator of comic book icons like Spider-Man, Iron Man, The Incredible Hulk, and more, it's only fitting that Stan Lee has become a character in the world he helped make. And as long as he is still able, I'd like to see Marvel bring back their Marvel One-Shots (which they may well again!), centering one around the great Stan Lee and his indefatigable Marvel cameo character.