'Wonder Woman 2' Finally, Officially Lassos Director Patty Jenkins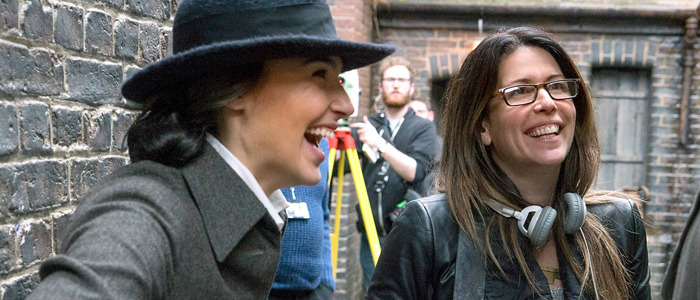 It's official: Patty Jenkins is returning to direct Wonder Woman 2.
After prolonged discussions with Warner Bros. over the course of several months after the record-breaking box office success of Wonder Woman, Jenkins has been confirmed to direct the Wonder Woman sequel. And if previous reports are true, this has just made Jenkins the highest-paid female director in Hollywood.
Variety confirmed the news of Jenkins' return to direct the Wonder Woman sequel on Monday:
Patty Jenkins has closed a deal to direct the sequel to the summer hit Wonder Woman. Gal Gadot has already signed on to return in the title role. The film is slated for release on Dec. 13, 2019.
Wonder Woman was a runaway — or rather, a flyaway — hit at the box office this summer, raking in $813 million worldwide and shattering records as the highest-grossing live-action film directed by a female director, the highest-grossing DC Extended Universe movie, the highest-grossing superhero origin movie domestically, and the winner of the summer movie season both critically and commercially.
A sequel was greenlit almost immediately after Wonder Woman surprised Hollywood with its extraordinary reviews and opening weekend, with star Gal Gadot set to return. As news reports came in that Jenkins was working on a Wonder Woman 2 script with DC Films co-head Geoff Johns (teasing a 1980s Cold War-era setting), the only thing that wasn't confirmed was Jenkins' participation behind the camera. It set the Interwebs ablaze with speculation: why would Jenkins not return to the film that rocketed the DCEU into the critically beloved superhero movie stratosphere after Warner Bros. struggled to make Batman v. Superman: Dawn of Justice and Suicide Squad both critical and commercial hits? And with Wonder Woman's pivotal role in Warner Bros.' new mantra of optimistic and "fun" superhero movies, why wouldn't Jenkins be at the helm of this new direction?
It turns out that Jenkins was hard at work on making sure she was paid adequately for what she achieved as the director of Wonder Woman. Much fuss was made over Gal Gadot's base pay in Wonder Woman — though the reports turned out to be on false claims — but not as much notice was given to Jenkins' pay. Women are critically underserved in Hollywood, both in front and behind the camera, and the wage gap can be seen regularly in Forbes' annual highest-paid actors and actresses lists. There is a growing awareness that women get fewer chances to direct high-profile films than men, even after they've proven themselves in the television field or with a feature film hit.
Directors like Ava DuVernay are working to spotlight and hire more female directors and crew members, and it looks like Jenkins has been fighting the pay inequity fight. It seems to have paid off.
Wonder Woman 2 is set to hit theaters on December 13, 2019.