'Fifty Shades Freed' Teaser Trailer: One Wedding And A Kidnapping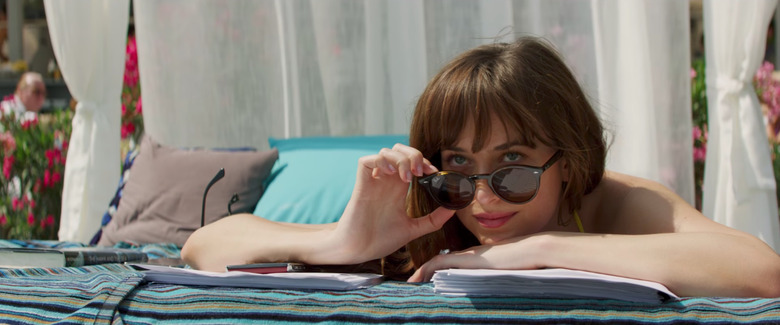 If there's any proof that fan fiction has power, it's the mystifying success of the Fifty Shades of Grey series. Its two leads have been launched into stardom (at least, Dakota Johnson kind of has), the movie soundtracks have jumped to the top of music charts, and there's now a third and final film to close out this BDSM-tinged tale.
Not bad for a passably-written fan-fiction of the Twilight series.
The teaser for Fifty Shades Freed promises all that a Fifty Shades movie does: a not-so-gratuitous shirtless scene of Jamie Dornan's Christian, a somewhat-gratuitous scene of Johnson's Anastasia, and lots of BDSM sex. There's also a wedding and a kidnapping to spice things up, but hey, do what you need to do to keep things exciting.
The teaser trailer shows mostly lingering shots of the more chaste side of Christian and Anastasia's relationship, with shots simply of Anastasia in her wedding gown — perhaps intentionally similar to Kristen Stewart's gown as Bella in the Twilight series — as Christian recites his vows, promising to protect and love her. Anastasia becomes the intimidating-sounding "Mrs. Grey," and the two of them seem to jet off to a beachside honeymoon where they lounge and engage in their famously kinky sex. But it all goes awry when Anastasia is suddenly attacked and chloroformed by her former boss Jack Hyde (Eric Johnson), which certainly puts a damper on these newlyweds' lives.
The trailer is accompanied by a new poster of Anastasia in her wedding dress.
Mrs. Grey will see you now. #HappyBirthdayAnastasia #FiftyShadesFreed pic.twitter.com/Aa2gHW4W61

— Fifty Shades Freed (@FiftyShades) September 10, 2017
I'm going to be honest, I'd forgotten that we had already made it to the third film of the Fifty Shades of Grey franchise, though I feel some relief at the news. The series has always struck me as curiously transgressive when it comes to its depiction of BDSM culture and female pleasure — barring its violent and dangerous perception of what sub-dom sex is, there's a baffling lack of male nudity for a movie that purports to be for women. To be fair, I've only seen the first film and I was very drunk when I watched it, but for a movie that claims to be for female audiences, there are many more nude shots of Dakota Johnson than there are of the object of her gaze, Jamie Dornan. In a movie industry — and television landscape — rife with sexually objectified and subjugated women, shouldn't there be at least some equal opportunity nudity in a movie that you would think allows for it?
But my complaints likely fall on deaf ears, as the Fifty Shades movies have made nearly $1 billion at the box office worldwide.
Fifty Shades Freed will hit theaters on February 8, 2018, just in time for Valentine's Day.